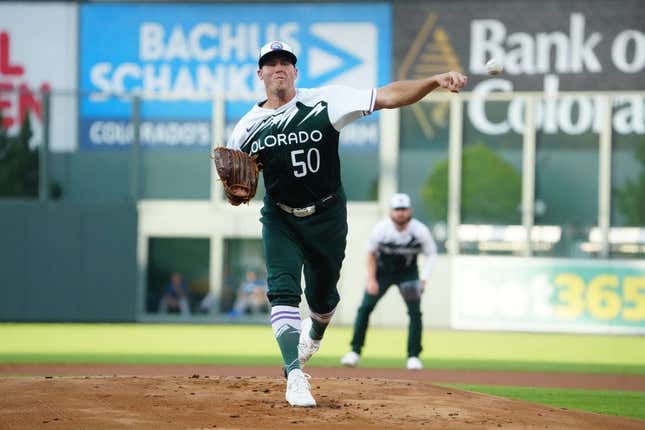 The San Francisco Giants get a much-needed break in the schedule when they begin a 10-game stretch against sub-.500 opponents with the first of three home matchups against the Colorado Rockies on Friday night.
How running an NFL team is like running a restaurant | Chef Emeril Lagasse
The Giants (70-70) also will host the Cleveland Guardians on their six-game homestand, followed by a trip to Colorado, where they will see the Rockies four more times.
San Francisco struggled the past four weeks, going 8-17 against the Texas Rangers, Tampa Bay Rays, Atlanta Braves (two series), Philadelphia Phillies, Cincinnati Reds, San Diego Padres and Chicago Cubs.
It has left the Giants sitting at .500 for the first time since they were 30-30 on June 6, and has them trailing the Reds and Arizona Diamondbacks in the race for the final National League wild-card spot with just 22 games left.
"This is where you keep fighting back," Giants manager Gabe Kapler said after his team finished off getting swept by the Cubs in Chicago on Wednesday. "The season is 162 games for a reason. There are a lot of teams that have withstood this kind of punishment and continued to keep fighting. There's a big reward if you're able to keep getting up and getting after it the next day."
The Giants will be without standout catcher Patrick Bailey, who suffered a concussion in a collision at the plate Tuesday against the Cubs, for the series against Colorado. He will be replaced by the tandem of Blake Sabol and Joey Bart, who was promoted from Triple-A.
Whomever Kapler selects for Friday's game will be behind the plate for left-hander Kyle Harrison (1-1, 4.70 ERA), one of the organization's top prospects who was brilliant in his major league home debut on Aug. 28, striking out 11 in 6 1/3 shutout innings in a 4-1 win over the Reds.
He has never faced the Rockies.
One of Harrison's biggest obstacles figures to be fellow rookie Nolan Jones, who enters the series with a .282 average, two points below current Rockies team leader Charlie Blackmon.
Jones' recent change in approach has led to a seven-game hitting streak in which he has hit .385.
"I looked at the numbers and I had a very low percentage on swings early in the count when I was behind," he said. "Now I have a better plan. I'm not trying to be too aggressive but just being ready to hit."
The Rockies are expected to start lefty Ty Blach (2-1, 4.33), who recorded 15 of his 19 big-league wins as a four-year member of the Giants from 2016-19.
The 32-year-old had pitched well (2.86 ERA) in consecutive starts against the Dodgers, Diamondbacks, Rays and Baltimore Orioles before allowing five runs in six innings in his most recent start against the Toronto Blue Jays.
He has faced the Giants three times in his career but never as a starter. He has a 5.40 ERA in 6 2/3 innings without getting a decision.
The Rockies have lost five consecutive series, all against either division leaders or playoff contenders, going 3-12 over that stretch.
—Field Level Media