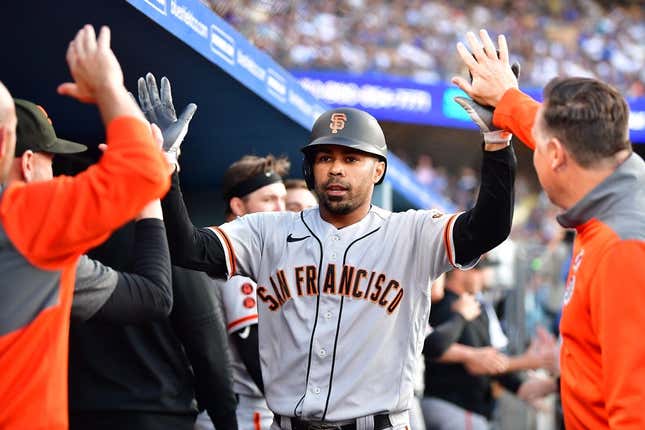 Consecutive wins over their longtime rival is big enough for the San Francisco Giants, but a 15-0 victory Saturday and a season-high six-game winning streak make it feel even better
How running an NFL team is like running a restaurant | Chef Emeril Lagasse
The Giants close out a three-game road series against the Los Angeles Dodgers on Sunday with a chance for a sweep
J.D. Davis belted a grand slam, LaMonte Wade Jr. hit a three-run home run and Brandon Crawford had four hits on Saturday as the Giants reached double-digit runs for the third time during the winning streak. San Francisco has averaged 9.7 runs over the last six games
The Giants did not record a hit through the first six innings of the series. Since then, they have scored 22 runs on 25 hits. Conversely, it was the largest margin of victory in a shutout against Los Angeles in the history of Dodger Stadium
"I was just fortunate enough to barrel it and contribute to (the offense)," Davis said on the NBC Sports Bay Area broadcast. "We've been on the other end of this kind of game against (the Dodgers). These guys are a really good team and we're expecting the best out of them (Sunday).
It will be a well-rested Logan Webb (5-6, 3.15 ERA) on the mound for San Francisco. Webb last took the mound on Monday when he had an efficient 88-pitch outing over seven innings in a win over the St. Louis Cardinals.
After a brilliant May in which he had a 3-0 record and a 1.30 ERA in five starts, Webb has a 1-1 mark with a 4.66 ERA in three June starts. But he did not walk a batter for the first time in 10 starts when he got the best of the Cardinals.
Webb is 2-5 against the Dodgers with a 4.13 ERA in 11 career starts, although he is 2-0 with a 2.42 ERA in five career starts at Dodger Stadium
The Dodgers will counter with right-hander Tony Gonsolin (4-1, 1.93), who is coming off a dominating start against the Chicago White Sox on Tuesday. He gave up two hits over six scoreless innings
It was an encouraging bounce-back outing after Gonsolin admitted to some fatigue of late and had his most recent start pushed back a few days.
"I think the extra couple days really helped me," said Gonsolin, who is 1-2 with a 3.38 ERA lifetime against the Giants. "For whatever reason, I just didn't come out of this last start super great. I was fortunate enough to have the extra days. I think it showed that they were very useful.
Gonsolin has dealt with a forearm injury and a sprained ankle since making his first All-Star appearance last year.
"He's going to be huge," said Dodgers manager Dave Roberts, whose team has lost nine of the last 13. "He's an All-Star pitcher. So when he's right and he's healthy, he's as good as anyone.
The Dodgers had three rookies in their starting lineup Saturday, including Michael Busch at third base in place of an injured Max Muncy. Los Angeles won two of three games at San Francisco earlier this season in a series in which Muncy had four home runs and 11 RBIs
David Peralta (hamstring) and Chris Taylor (knee) both were out of the Dodgers' lineup Saturday after leaving early in the series opener
--Field Level Media