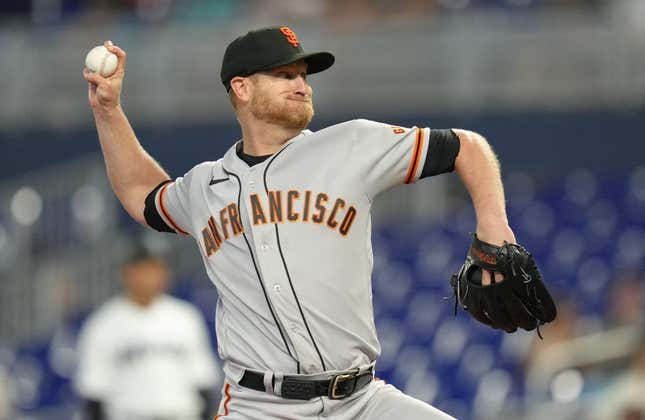 The San Francisco Giants hope to ride the momentum of -- of all teams -- the Golden State Warriors when they attempt to build upon a two-game winning streak in the opener of a three-game series against the visiting St. Louis Cardinals on Monday night
Will South Beach Flu give the Heat home court advantage? | Keep it a Buck(et)
Both teams are coming off sweep-preventing performances over the weekend -- the Giants with back-to-back home wins over the New York Mets, the Cardinals with a 7-3 road victory over the Seattle Mariners on Sunday
Joc Pederson, who was playing for the first time since April 11 because of a sore wrist, contributed an RBI single and a difference-making dash around the bases on Mike Yastrzemski's tie-breaking double to help the Giants to a second straight win after they'd been thrashed 9-4 and 7-0 by the Mets on Thursday and Friday
Afterward, the San Francisco Bay Area native was all smiles, and only partially because of the Giants' thrilling victory
"We win. The Warriors win. Great day by the bay," Pederson gushed, fully aware that Golden State had beaten the Sacramento Kings in an NBA playoff game about a mile down the street earlier in the afternoon.
"The Mets are a really good team. They are going to be a playoff contender for sure," Pederson continued. "To show we are competitive with them when our backs are against the wall is promising. It's encouraging. We need to build on that."
The Giants are slated to send right-hander Alex Cobb (0-1, 2.79 ERA) to the mound as the home team goes for its first three-game winning streak of the season
Cobb has allowed just six earned runs in four starts -- never more than two -- yet remains in search of his first win. His last effort was his best, limiting the host Miami Marlins to one run in five innings with eight strikeouts in a game the Giants went on to win 5-2
The 35-year-old has pitched well in both of his career starts against the Cardinals, going 1-0 with a 1.50 ERA
Like the Giants, the Cardinals got a key player back from an injury, and he made an immediate difference in Sunday's win at Seattle
Making his season debut after suffering a back injury in spring training, Paul DeJong had three hits, including a home run, to help the Cardinals rebound from 5-2 and 5-4 losses to start the Seattle series
DeJong was debuting a new stance he had worked on over the winter in Florida, one that has him standing more upright and features just a short stride. Not surprisingly, he was thrilled with the early results.
"I don't really watch myself anymore (on video) because I want to be able to feel it out there," he noted. "So I don't really know what it looks like, but I know what it feels like in my head. I feel on time and ready to hit. Obviously, we have a long way to go, but today was a great start."
Left-hander Jordan Montgomery (2-2, 4.84), who was roughed up by the Arizona Diamondbacks for seven runs in four innings at home in his last start, is expected to get the ball to start the set for the Cardinals
Montgomery had allowed a total of just five runs in his first three outings.
The 30-year-old has never faced the Giants, but has seen former New York rival Michael Conforto six times, allowing two singles and a walk
--Field Level Media