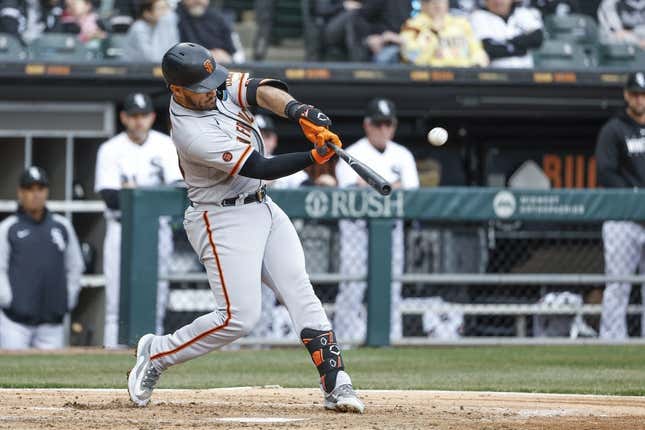 Right-hander Alex Cobb hopes the San Francisco Giants end a season-opening pattern when he gets the ball for his club's home opener against the Kansas City Royals on Friday afternoon
'Soccer fandom is full of gatekeepers' says Ted Lasso actor Brendan Hunt
The Giants erupted for five home runs in a 16-6 get-away day triumph over the host Chicago White Sox on Thursday, completing a 3-3 trip that began with three games against the New York Yankees
Following an offseason in which they failed in attempts to lure Aaron Judge and Carlos Correa, the Giants have held their own offensively so far, totaling 38 runs
But 35 of the 38 have come on days following losses, whereas they've been shut out twice and totaled three runs in the third loss.
Cobb (0-0, 2.45), who is quite familiar with the Royals after having spent his first 10 big-league seasons in the American League, failed to take advantage of one of the Giants' good offensive days in a 7-5 win over the Yankees last Saturday. He was pulled after 3 2/3 innings, having thrown 76 pitches, 38 of which came in a marathon first inning
He did not get a decision.
Cobb flew home ahead of the team Thursday in order to get settled in after a spring in Arizona and a season-opening trip to New York and Chicago.
"When I mapped it out and saw that I was starting that game, I got really excited," he said. "Starting the home fans' season off, it's just really fun to pitch in front of that kind of energy. It feels different: The fans are back, the guys are fired up. And I know from last year, the Giants do a great job with the opener.
The 35-year-old has made seven career starts against the Royals, going 2-3 with a 4.57 ERA. He has yet to face them in San Francisco
After being held to two homers and seven total runs in New York, where they lost two of three, the Giants busted out offensively in Chicago, belting 13 homers, including seven in a 12-3 win in the White Sox's home opener on Monday
Ten different Giants have homered in the six games, including five who have hit a pair
The Royals, meanwhile, have totaled just five homers in their first seven games. They scored nine runs in a home win over the Toronto Blue Jays on Monday, but have been shut out three times and limited to a total of eight runs in their other six games, all of which they've lost
Bobby Witt Jr. smacked his first homer of the season Thursday, but it wasn't nearly enough in the Royals' third straight defeat, 6-3 at the hands of the Blue Jays
After opening with seven straight at home, Witt is hoping a change of scenery will turn things around.
"We're human, so whenever you lose, you're gonna get frustrated," he said. "And so now it's just how you can bounce back. I think the frustration, it builds to good things. You learn from it. You don't want to do it again. We'll keep moving forward."
Right-hander Brad Keller (0-1, 3.86) is scheduled for his second start in the series opener. He held the Minnesota Twins to two runs in 4 2/3 innings in his season debut Sunday in a 7-4 defeat.
The 27-year-old has never faced the Giants, and has never lost in the San Francisco Bay Area, going 1-0 with a 1.46 ERA in two lifetime starts across the bay against the Oakland Athletics
--Field Level Media