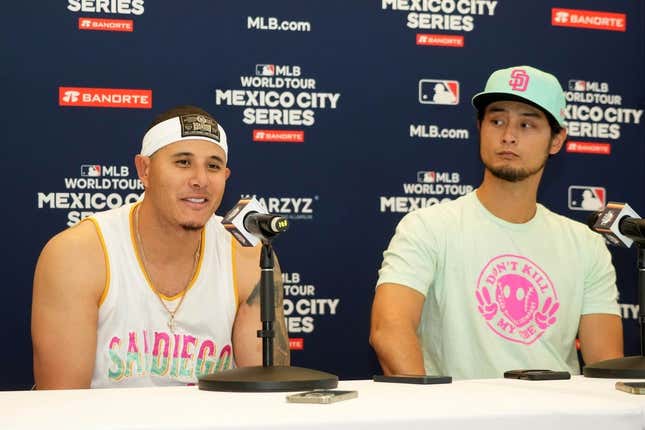 Say a little prayer for right-handers Alex Cobb and Yu Darvish.
They will be the starting pitchers on Sunday as the San Francisco Giants and San Diego Padres complete their historic two-game series in Mexico City
Does Jimmy Butler have the best NBA Finals origin story? | Agree to Disagree
Not only was the Padres' 16-11 win on Saturday the first major league game played in Mexico's capital, it was played at the highest altitude of any game in Major League Baseball history -- 7,349 feet
Not only is that more than 2,000 feet higher than Coors Field in Denver, Mexico City's Estadio Alfredo Harp Helu ballpark has shorter dimensions than the home of the Colorado Rockies.
Coors Field, which has the iconic mile-high stripe running through the upper deck, is 347 feet to the left-field foul pole, 350 feet down the line to right and 415 feet to center.
Estadio Alfredo Harp Helu is 332 feet to both foul poles and 400 feet to center.
Eleven homers were hit Saturday, two shy of the major league record. Nineteen of the game's 30 hits went for extra bases.
"Every ball that got up in the air had a chance to get out," Padres manager Bob Melvin said. "We have some guys who can hit the ball out of the ballpark ... and when you get a little help ..
"Any time it's a win, we'll take it. We expected some home runs, maybe not that many."
"Let's say not all those would have been homers in normal circumstances," Giants manager Gabe Kapler said. "But both teams were dealing with the same situation.
The Padres scored in seven of the eight innings in which they batted. There were only three 1-2-3 innings in the game -- all by San Diego pitchers
"It was a fun time," said Padres third baseman Manny Machado, who was the lone player with two homers in the game
So show some concern for Cobb and Darvish in the series finale.
Cobb (1-1, 1.91 ERA) will make his sixth start of the season on Sunday. The 35-year-old has allowed a .278 opponents' batting average with 26 strikeouts against four walks in 28 1/3 innings.
Cobb is coming off his best performance of the season. On Monday, he threw a complete-game, six-hit shutout of the St. Louis Cardinals in San Francisco.
Over the last two games, Cobb has allowed one run on 13 hits and two walks with 12 strikeouts over 14 innings. The Giants are 3-2 in games started by Cobb, who sports a 1-1 record with a 4.12 ERA in four career appearances (all starts) vs. the Padres
Over his last two starts, Darvish (1-2, 3.00) has given up two runs on six hits and seven walks with 17 strikeouts in 12 2/3 innings. He is 2-2 with a 6.29 ERA in nine career games (all starts) against the Giants. He was 0-1 vs. them with a 10.38 ERA in two starts last season, giving up 10 runs on 11 hits in 8 2/3 innings
--Field Level Media