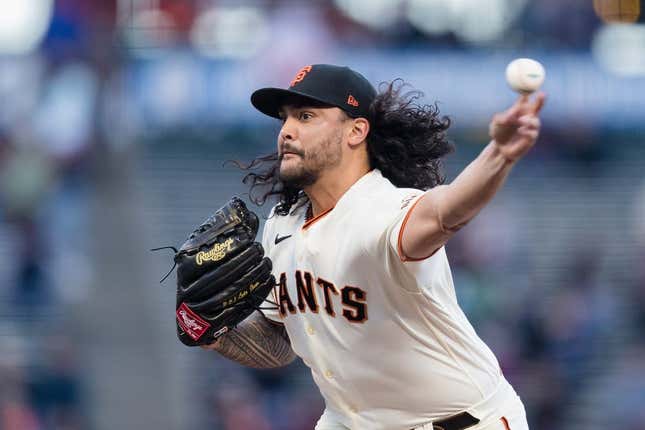 Since 1996, the San Diego Padres have served as international ambassadors for Major League Baseball. This weekend, the Padres are making their fifth trip to Mexico to play the San Francisco Giants in a two-game series in Mexico City, beginning Saturday
Bass' ERA stinks, but not compared to who he is off the mound | Worst of the Week Countdown
Not only will the two contests at Estadio Alfredo Harp Helu finally be the first two major league games in Mexico City, they will be played at the highest altitude (7,349 feet) of any game in MLB history. Mexico City is 2,000 feet high than the Colorado Rockies' Coors Field.
"The altitude is higher than Colorado, so I don't know if you can prep for that," Padres manager Bob Melvin said before the team departed Chicago for Mexico City on Thursday. "Our training staff is trying to get everyone ready for once we get there as far as hydration and all that. We'll see how the game plays once we're there. Both teams have to deal with it.
This will be Major League Baseball's sixth regular-season series in Mexico. Three of the first five involved the Padres
The Padres and New York Mets played the first Mexico series in 1996 against the New York Mets. Three years later, they returned to Monterrey to open the season against Colorado. They were back in Monterrey in 2018 to play the Los Angeles Dodgers
In 2008, the Padres and Dodgers played a spring exhibition series in China. And in 2016, the Padres and Houston played a two-game exhibition series in Mexico
The Padres and Arizona were also scheduled to play a two-game series in Mexico City in April 2020. That series was cancelled due to the COVID-19 pandemic
Players from both teams visited schools and youth organizations Friday in the lead-up to the series.
"I've traveled a lot in Mexico over the years, a lot in Baja California. But I've never been to Mexico City," Giants manager Gabe Kapler said. "I've heard great things about the culture, the monuments, the food and the music. I really just want to take a couple of hours and walk around.
"We have meetings on Mexico every day," Melvin said. "We're being informed on what we have ahead. I think promoting baseball around the world is a good thing. I've been to Japan a couple times and have had great times both times I was there. I'm looking forward to going to another country and promoting our game again. I think that's what baseball is trying to do across the board with going to different places. I think we're lucky enough to be one of those teams this year."
This will also be the first meeting between the Padres and Giants this season
The two-game series begins with Giants left-hander Sean Manaea (0-1, 6.61 ERA) paired against Padres right-hander Joe Musgrove (1-0, 5.40)
Manaea, 31, signed with the Giants as a free agent last Dec. 19 after spending the 2022 season with the Padres, where he was 8-9 with a 4.96 ERA in 30 appearances (28 starts). He is 2-1 in four lifetime starts against the Padres with a 3.22 ERA. This season, he has given up 12 runs on 14 hits and seven walks with 18 strikeouts in 16 1/3 innings over five appearances (three starts)
Musgrove didn't make his 2023 debut until April 22 after suffering a fracture to the big toe on his left foot during spring training. Musgrove is 4-3 lifetime against the Giants with a 3.15 ERA in 12 starts (71 1/3 innings). Musgrove was 2-0 against the Giants with a 1.07 ERA in five starts (33 2/3 innings) last season
The Padres head to Mexico after losing two of three in a visit to the Chicago Cubs. The Giants had a five-game winning streak snapped Thursday when they lost the finale of a four-game set against the visiting St. Louis Cardinals, 6-0
--Field Level Media