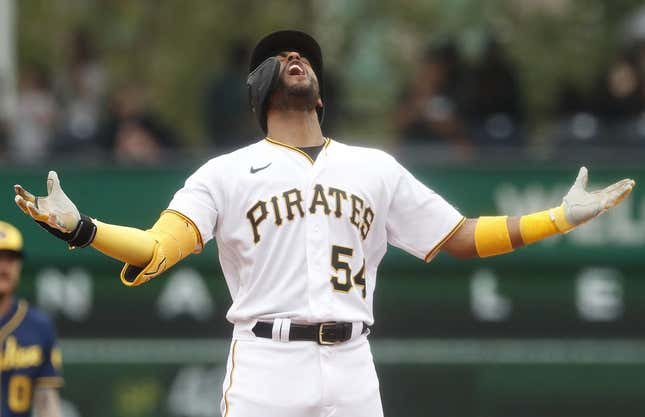 In what is informally considered the start of the second half of the season, the Pittsburgh Pirates and visiting San Francisco Giants open a series Friday still looking to solidify their identities
How running an NFL team is like running a restaurant | Chef Emeril Lagasse
Both teams numerically are past their midway points, but the series comes as baseball revs up again following the All-Star break and the draft.
The Giants, who are kicking off an 11-game, four-city road trip, are in contention in the National League West and come out of the break with a two-game winning streak. But they are 4-7 in their past 11 games
They haven't forgotten about a 10-game winning streak in June that provided a boost in the standings and is the difference now in being over .500.
"I think we've grinded a lot throughout the first half," San Francisco right-hander Logan Webb told mlb.com. "I don't think we really had a healthy team the entire time. I think when we had a fully healthy team, that's kind of like when we went on that 10-game win streak.
"We know we're a really good team, and we're just going to keep grinding away until we get fully healthy. When that happens, the sky's the limit. I think we all feel that. ... I think it's a good feeling."
The Pirates, who dropped two of three at San Francisco in late May, also have dealt with injuries. But the overriding story to their season is the distinction between April, when they surprised the baseball world by going 20-9, and the time since
They have won just 21 of their past 61 games, have had a seven- and 10-game losing streaks, and are 2-7 in July. It's a stretch that harkens more to their back-to-back 100-loss seasons than their hot start.
Pittsburgh can hope for a little carryover from Sunday, its last game before the break, when the team had lost seven of eight.
The Pirates gutted through a bullpen game with seven pitchers at Arizona and won 4-2
"It's impressive what they all did," Pittsburgh All-Star closer David Bednar said. "It's tough to get the whole group on the same page on those bullpen days sometimes, but it's a testament to all the work we've done throughout the whole year."
In the series opener, San Francisco right-hander Ross Stripling (0-2, 6.37 ERA) is scheduled to start opposite Pittsburgh left-hander Rich Hill (7-9, 4.78 ERA).
Stripling is something of an interesting choice coming out of the break. He has not lasted more than five innings in any appearances and earlier missed about five weeks because of a back strain.
Most recently, he started last Friday against Colorado, giving up two runs and four hits in 3 2/3 innings and getting a no-decision after he got his pitch count up to 65.
Stripling, said that game "was another step building up" toward a bona fide return to the rotation.
Stripling is 2-1 with a 4.13 ERA in seven career games, three of them starts, against Pittsburgh.
Hill has lost his past two starts, including last Friday at Arizona, when he allowed five runs and seven hits in four innings.
Hill is 8-3 with a 2.73 ERA in 19 career starts against the Giants
--Field Level Media