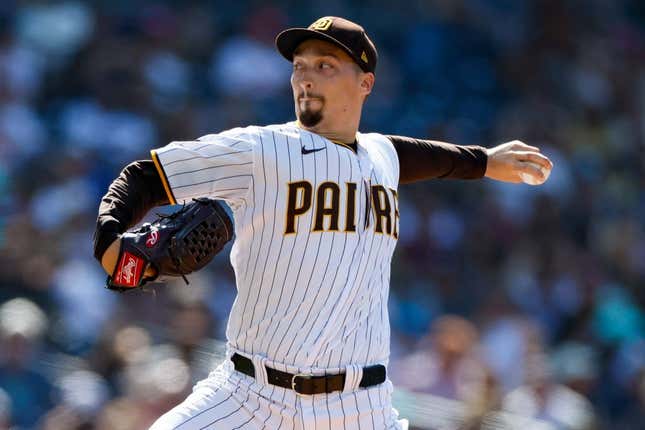 One of baseball's hottest pitchers and one of baseball's hottest teams go head-to-head Thursday afternoon when the San Diego Padres seek to avoid a four-game sweep at the hands of the host San Francisco Giants
How running an NFL team is like running a restaurant | Chef Emeril Lagasse
After winning despite never leading until the final pitch of the game a night earlier, the Giants never trailed while running their winning streak to 10 games with a 4-2 victory on Wednesday night
In order to get to 11, they will have to go through Padres left-hander Blake Snell (3-6, 3.48 ERA), who has been almost unhittable in his past four starts
The 30-year-old veteran has given up just one run and 10 hits in his past 25 innings, striking out 39 and walking nine along the way. He struck out 12 in each of his past two outings, against the Colorado Rockies and Tampa Bay Rays.
Snell has made six career starts against the Giants, going 3-1 with a 2.51 ERA
Pitching in big games is nothing new to Snell, whose last start came against his old team, the Rays, a club he helped lead to the 2020 World Series.
"A lot of those guys were in it from the day I walked in the door as a professional," Snell said afterward. "So yeah, emotional. It's cool to pitch in front of people that have supported you, raised you, challenged you. There's just a lot that they've done that made me who I am today."
After trotting out opener Ryan Walker in the first and third games of the series, the Giants have a healthy traditional starter ready for the series finale
Alex Wood (2-1, 4.11 ERA) gets the call after having benefitted from a total of 34 runs of support in his last three starts, including 15 apiece in wins over the Milwaukee Brewers and Los Angeles Dodgers.
The 32-year-old left-hander has gone 6-4 with a 3.14 ERA in 21 career games against the Padres, including 15 starts
Despite having gone with an opener twice already in the series, Giants manager Gabe Kapler noted he will have all hands on deck in his bullpen behind Wood if necessary. He thanked Sean Hjelle, who worked the second through fifth innings on Wednesday in a bulk-inning-reliever role, for that
"These (multi-inning) outings by Tristan Beck and Sean Hjelle and Keaton Winn is how we can keep from taxing the bullpen over a long period of time," Kapler said. "There's a real cascading effect to pitching deep in games for the guy that comes in after the opener."
Whether it's the pitching or the hitting, San Francisco continued to dominate the Padres in clutch at-bats. The Giants went 4-for-8 with runners in scoring position in the Wednesday win, and their last three runs in a four-run fifth were produced by two-out singles
The Giants are now 8-for-20 over the three games with runners in scoring position. The Padres, after going 2-for-10 and 1-for-12 the past two nights in the same situations, have struggled at a 4-for-29 rate in the series
If there was a negative for the Giants on Wednesday, it was that Mike Yastrzemski, hero of the Monday win with a walk-off home run, had to leave the game due to a tight left hamstring. Kapler indicated his outfielder would have a scan on Thursday to determine the extent of the injury
--Field Level Media