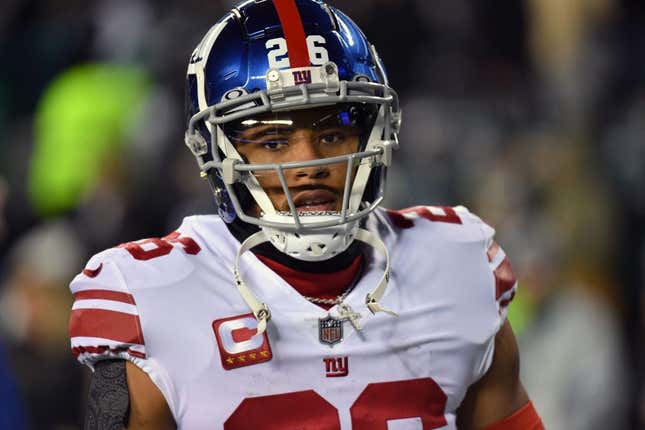 New York Giants general manager Joe Schoen said Thursday that he hasn't spoken to running back Saquon Barkley, nothing has changed and that "you'll have to ask him" whether he plans to play in 2023
Are the Oakland A's a failed state? | Agree to Disagree
Barkley refused to sign his one-year, $10.091 million franchise tender and will not report to offseason workouts in the hopes of getting a long-term contract from the club.
Schoen said Thursday none is forthcoming -- "nothing has changed" since the NFL owners' meetings three weeks ago.
As for Barkley playing in 2023?
"You'll have to ask him," Schoen said Thursday. "I don't know what his plan is. I haven't talked to him in probably three weeks."
Barkley said he prefers a long-term deal and did not want to be given the franchise tag. The Giants took the decision down to the wire while working to sign quarterback Daniel Jones to a new contract
Barkley and the Giants have until July 17 to reach a long-term deal. Barring a new contract, Barkley would either have to sign the tender for 2023 or, if he chooses not to, sit out the season
ESPN reported Barkley informed the team he was looking for around $14 million per season. He rejected an offer in November that was reportedly worth around $12 million per season.
Barkley, 26, finished fourth in the NFL in rushing in 2022, made his second Pro Bowl and was a finalist for Comeback Player of the Year. New York drafted him with the No. 2 overall pick in 2018.
--Field Level Media