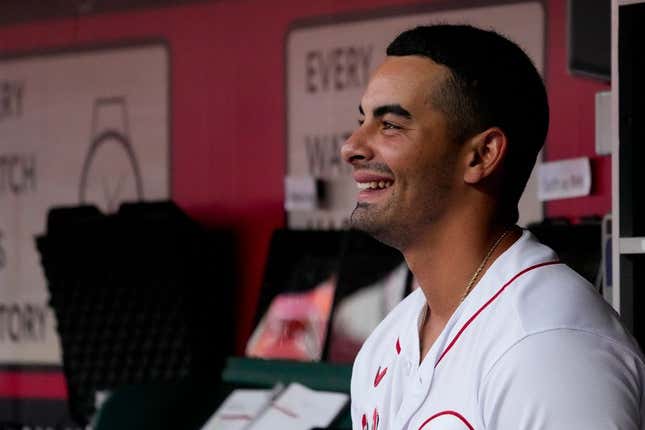 Mother Nature was the only winner in the opener of a four-game series between the visiting San Francisco Giants and the Cincinnati Reds on Monday, as severe thunderstorms and heavy rains forced the game to be suspended with the score 2-2 in the eighth inning
Is Texas or Florida State a bigger national title contender? | Agree to Disagree
With Joc Pederson on third, Wilmer Flores on second and one out, the umpires halted the game when heavy rains came. The Cincinnati grounds crew then brought out the tarp -- though one member of the crew was temporarily swept under the cover after he fell -- and it never came off.
The game will resume at 5:40 p.m. ET, 90 minutes prior to Tuesday's regularly scheduled game.
When the scheduled game begins, San Francisco right-hander Anthony DeSclafani (4-8, 4.44 ERA) is expected to return from the 15-day injured list to start against his former team. DeSclafani was placed on the IL in early July after acknowledging shoulder fatigue.
The 33-year-old is 1-1 with a 0.84 ERA in three career appearances (two starts) against Cincinnati.
The Reds will counter with right-hander Luke Weaver (2-2, 7.00 ERA), making his 16th start this season. Beginning with his road start against the Boston Red Sox on May 31, the Reds have won his past eight outings, including Cincinnati's last win, 8-5 at Milwaukee on July 8. Cincinnati is 0-4 since
In that eight-start span, Weaver is 1-0 despite an 8.66 ERA.
Weaver is 3-3 with a 3.13 ERA in nine previous games (seven starts) against San Francisco.
The Giants will be looking to extend their winning streak to six games in the completion of the suspended game, which is their fourth contest on a season-high, 11-game, four-city trek
"I think it speaks to the club's resilience," Giants manager Gabe Kapler said of the winning streak. "I think that's still the true character of this team. I think it speaks to an unselfish, team-first mentality that was really the key to our (107-win) season in 2021
"Everybody wants the big moment, but what we're really trying to do is pass the baton to the next hitter in the lineup, give the ball to the next reliever coming into the game and just trust that a 26-man puzzle is going to fit together nicely and win a lot of baseball games."
Across the diamond on Monday, Christian Encarnacion-Strand became the latest highly touted Cincinnati prospect to be called up this season. He went 0-for-2 with a flyout and a groundout in his two at-bats before the weather delay.
With Triple-A Louisville, Encarnacion-Strand hit .331 and belted 20 home runs in 67 games, overcoming a stint on the injured list at the start of the season.
The 23-year-old, who was a 2021 fourth-round draft pick, joined a group that includes infielders Elly De La Cruz and Matt McLain and lefty starters Andrew Abbott and Brandon Williamson to make their debuts this season. He batted seventh as the designated hitter on Monday.
"I just learned don't get caught up in, 'I need to go up, I need to go up,'" Encarnacion-Strand said of his time in Triple-A. "Just focus on your game. Keep your head down and work hard and when the time is right, the time will come."
De La Cruz said of Encarnacion-Strand, "I've been waiting for that guy ever since I got called up here. He's like an assassin up there. Guys are afraid to pitch against him when he's up there. Every time I see him bat, I know he's going to hit a home run."
De La Cruz accomplished another first Monday night in the series opener, batting leadoff for the first time in his rookie season. He hit fourth in his previous 33 major league games, all starts.
Including Monday, the slumping rookie is 0-for-15 with seven strikeouts since the All-Star break and is hitless in his past 16 at-bats overall.
--Field Level Media