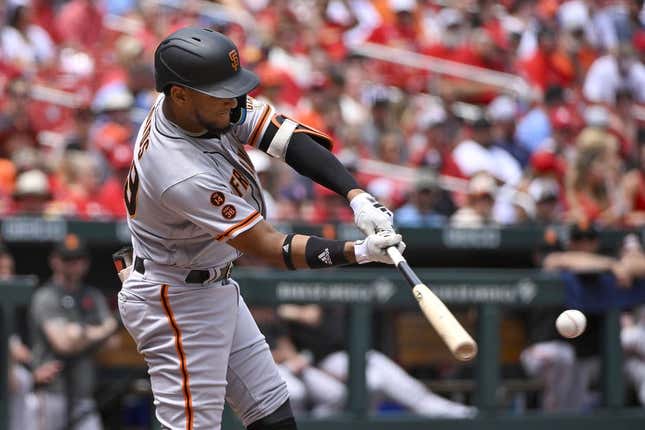 The San Francisco Giants have been playing some of the best baseball in the majors over the past month
How running an NFL team is like running a restaurant | Chef Emeril Lagasse
The Giants will look to keep the success going against their fiercest rival on Friday when they open a three-game series against the Dodgers in Los Angeles
San Francisco has won four straight games and 19 of 28 as it enters its second confrontation with the Dodgers this season. Los Angeles won two of three meetings from April 10-12 in the Bay Area
The Dodgers have lost seven of their last 11 games while the Giants are in the midst of their fifth winning streak of three or more games during the 28-game hot streak
The latest victory might have been the most unlikely. San Francisco was one strike away from losing to the St. Louis Cardinals on Wednesday when Mike Yastrzemski slugged a tying two-run homer in the ninth inning. The Giants scored three times in the 10th to post an 8-5 victory
"Nobody we'd rather have up in those kind of moments because his heartbeat is so slow," San Francisco manager Gabe Kapler said of Yastrzemski. "You know he's going to be totally prepared for the moment. Nothing's going to be too big for him and he's going to get a good swing off."
The Giants are going to take a long look at prized prospect Luis Matos, who went 1-for-3 against St. Louis in his first major league game. The 21-year-old was recalled after fellow outfielder Mitch Haniger sustained a fractured right forearm when hit by a pitch from Jack Flaherty of the Cardinals on Tuesday
"It's an exciting moment for the organization," Kapler said. "Obviously, it comes on the heels of something that was really disappointing in the Haniger injury, but certainly we're excited to see what Matos can bring to the table."
Los Angeles began a six-game homestand by taking two of three games from the Chicago White Sox.
Freddie Freeman's long walk-off single in the bottom of the 11th inning gave the Dodgers a 5-4 win on Thursday. Chris Taylor belted a grand slam, which was the 100th homer of his career, to pull Los Angeles out of a 4-0 deficit
"It was pretty cool to do it in that fashion," Taylor said of reaching 100 homers. "Obviously, a big momentum-changer for us. ... Hopefully we can ride that and get on a roll."
Dodgers infielder Max Muncy (hamstring) will miss his fourth straight game. Manager Dave Roberts said Muncy could return Saturday
J.D. Martinez, who went 0-for-12 with eight strikeouts over the previous three games, didn't start Thursday but was intentionally walked as a pinch hitter.
"I felt it was good for him to sit back and watch a big-league ballgame," Roberts said. "The last few games for him have clearly been a grind."
Right-hander John Brebbia (2-0, 3.25 ERA) is slated to be the opener for San Francisco on Friday. He will pitch one or two innings.
Brebbia hasn't allowed a run in his past four appearances and 11 of his past 12. He has given up just one run in 14 innings during the stretch.
Brebbia is 1-1 with a 5.31 ERA in 20 career appearances (two starts) against Los Angeles. Freeman is 5-for-7 with a homer against the 33-year-old.
Los Angeles hasn't yet announced a starting pitcher. Roberts said after Thursday's game that the team will make a roster move.
"We should have someone en route," Roberts said. "It's going to be a collective effort tomorrow."
One possibility is right-hander Matt Andriese, who last pitched on Sunday. He is 5-2 with a 4.50 ERA in 12 starts at Triple-A Oklahoma City.
Another is right-hander Andre Jackson, whom the Dodgers optioned to Oklahoma City on Sunday. Jackson hasn't pitched since the demotion
--Field Level Media