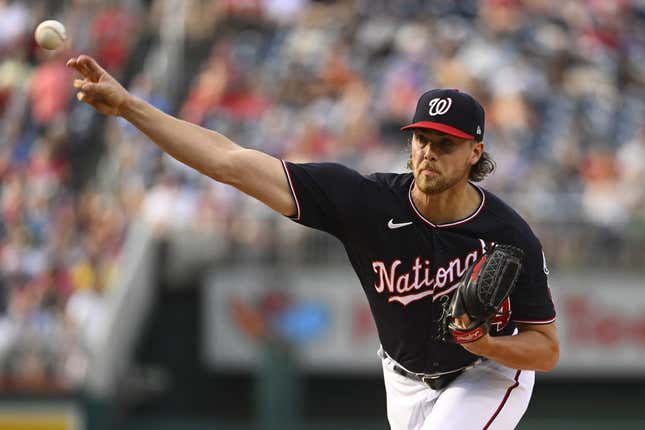 The San Francisco Giants had trouble on offense the past two games, posting a total of three runs and eight hits
How running an NFL team is like running a restaurant | Chef Emeril Lagasse
Looking at the recent pitching woes for the Nationals, the Giants might be showing up at just the right time for their Friday night game in Washington
The Giants managed only two hits -- one a home run from Wilmer Flores -- in a 5-1 road loss to the Cincinnati Reds on Thursday afternoon
San Francisco split the series with the Reds after winning the first two games. The two losses came after the Giants posted victories in their first five games following the All-Star break, a run that extended their overall winning streak to seven
The Giants couldn't solve Reds rookie Andrew Abbott on Thursday, and they will face another rookie in the series opener at Washington, right-hander Jake Irvin
Yet it's not a crisis for San Francisco manager Gabe Kapler.
"We hit some deep fly balls and we were swinging at strikes," he said. "In the short term, we didn't get the results."
The Nationals, who were off on Thursday, are 2-4 since the All-Star break, with all of the games on the road. In the four defeats, they allowed an average of 10.5 runs
"We just got to get some guys who can get some outs back in the bullpen," Nationals manager Davey Martinez said. "The walks are really what's killing us right now. We have to get back to throwing strikes and make them swing a little bit.
Reliever Mason Thompson had a rough outing on Wednesday against the Chicago Cubs, giving up four runs in two-thirds of an inning and taking the loss. That was unusual because in his previous 16 outings combined covering all of June and July, he surrendered a total of four runs (three earned).
Might it be time to monitor his workload?
"I want him to pitch," Martinez said. "I definitely want him to pitch when he's doing things correctly."
Williams said it's a matter of displaying better command of pitches.
"Got to go out there and get ahead, stay ahead," Williams said. "I think (I'm) going out there sometimes trying to be too fine."
The Friday contest will open a six-game homestand for Washington. That might sound better than it really is for the Nationals, who are 3-15 in their last 18 home games
As for Friday, Alex Wood (4-3, 4.53 ERA) gets the call for the Giants. The left-hander has worked in only one game since the All-Star break, giving up one run in 3 2/3 innings on Sunday at Pittsburgh
Wood holds a 6-5 record with 3.17 ERA in 15 career starts vs. Washington. The Nationals have produced 10 home runs in 88 all-time innings against Wood, who has issued more long balls to only one other opponent (12 to the Los Angeles Dodgers)
Irvin (2-5, 4.96 ERA) will be Washington's starting pitcher in the series opener. He also has pitched just once since the break, logging three innings and giving up four runs on Saturday at St. Louis. Irvin will try to break a streak of four consecutive appearances in which he has allowed a home run.
The rookie recorded his first career victory in his second game of the season when the Nationals prevailed at San Francisco on May 8. He blanked the Giants across 6 1/3 innings, giving up four hits and three walks with five strikeouts
The Nationals won two of three games in that series
--Field Level Media