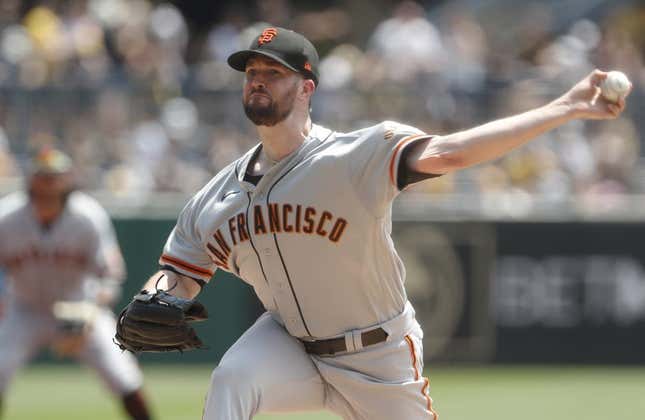 Two teams that see brighter days ahead will meet in a rematch Wednesday night when the San Francisco Giants go for a two-game sweep of the visiting Oakland Athletics in their rivalry series
How running an NFL team is like running a restaurant | Chef Emeril Lagasse
The Giants' Alex Cobb and A's Ken Waldichuk did a majority of the heavy lifting during San Francisco's 2-1 victory in the series-opening pitchers' duel
The win was the first for the Giants after they completed a marathon 11-game trip with six consecutive losses after five straight wins
"It feels good to get back into the win column," said Giants outfielder Luis Matos, who scored the game's difference-making run in the eighth inning
"Hopefully it's the beginning of another winning streak. We understand that you're going to win games and you're going to lose games. Hopefully this is the start of good things."
The win mostly was the result of outstanding pitching, as Cobb (nine), Tyler Rogers (two) and Camilo Doval (three) combined for 14 strikeouts.
Looking to duplicate Cobb's starting effort will be left-hander Alex Wood (4-4, 4.99 ERA), who would require a reversal of recent form to do so.
Wood, 32, pitched twice on the Giants' just completed trip and never saw the fifth inning, allowing a total of six runs and 10 hits over 7 2/3 innings in his team's 8-4 win at Pittsburgh and 5-3 loss at Washington
He is 1-3 with a 5.26 ERA in five career starts against the Athletics
The A's received 4 2/3 strong innings from Waldichuk in a bulk-innings reliever role in Tuesday's loss. He added to the Giants' recent struggles against left-handers with two of their top right-handed bats -- Thairo Estrada (hand) and Mitch Haniger (forearm) -- out of the lineup with injuries
Oakland will send another lefty, Hogan Harris (2-4, 6.11), to the mound as the club attempts to put some runs on the scoreboard.
The A's have been outscored 15-12 while losing four of their past five games.
Harris pitched one of the best games of his young career last time out, limiting the Houston Astros to two runs and four hits over six innings in a 3-1 home loss on Thursday.
He has yet to face the Giants in his career
A's manager Mark Kotsay hopes his young hurlers learned something from Waldichuk's performance Tuesday -- that pitching in the big leagues is more about quality than quantity.
"The mentality of starting pitchers sometimes ... they don't come out and throw with max velocity to start the game," Kotsay said. "I think Ken is realizing that when he starts games now -- that a max from Pitch 1 is important.
"Ken is 15 professional starts into his career. This is a sign of growth; it's a sign of mentality in terms of understanding what it takes to get major league hitters out from Pitch 1."
--Field Level Media