For a Big Baby, Glen Davis sure knows a lot of grown-up words. (NSFW language, I guess)
The Palace Of Auburn Hills has never been known for being full of shrinking violets. So perhaps Davis could have reacted a little better to a fan who spent the entire first half calling him "fat boy" and "chubs."
Love the Montel-ish "woooo" from the surrounding fans after Davis's polite request.
Even Doc Rivers says "Glen Davis has to grow up," and the league made sure he knows he's been naughty, handing down a $25,000 fine. Davis was contrite:
I'm a tough competitor and I'm proud of the work I've done to get in shape and be at the top of my game. That said, I shouldn't have said what I did. My apologies to the fans and my teammates."
G/O Media may get a commission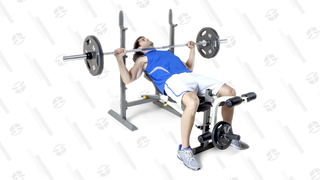 10% Off
Marcy Folding Weight Bench
Sticks and stones, and all that. It's no fun to be called fat. But there's a weight clause in his contract, and if he qualifies, he just might be able to bend over enough to service himself, no help from fans required.
Celtics' Davis fined $25K for incident with fan in Detroit [NBA]