Amid an endless stream of predictable and boring red carpet style choices during awards season—Jennifer Lawrence in Dior, Charlize Theron in Dior, Julianne Moore in Tom Ford or Calvin Klein, the list goes on—there is a genre of marquee event workwear that Hollywood, with its endless stream of well-paid stylists and lucrative brand partnerships, does not appreciate enough.

Jokic? Embiid? The NBA MVP is obvious... right? | Keep it a Buck(et)
Thursday night, though, it was on full display, as several teams in the National Basketball Association held simultaneous events across the country and displayed how to be casual and comfortable in front of the cameras while also looking sharp, well put-together, and fit—without the predictability that LA stylist culture brings to the spotlight. They also showcased a range of emerging sportswear designers who aren't exactly household names like Jason Wu or Balmain, but who influence national style more than anyone with a runway show. Here's one case where it truly doesn't matter if someone else shows up to the event wearing the same outfit as you are. Let's take a peek at the clothes, shall we?
(Above, Steph Curry shows off his accessory; a futuristic lucite grille he probably ordered from the V-Files shop.)
G/O Media may get a commission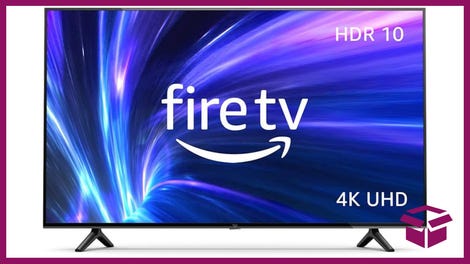 42% Off
Amazon Fire TV 50" 4K Smart TV
New Orleans Pelican Luke Babbitt took health goth to new heights, cheekily layering an ink-black pair of practical and stylish leggings beneath a low slung pair of shorts in what looks to be a poly-cotton blend. Generally, though, the Denver Nuggets had the advantage—robin's egg blue with contrasting summer yellow detailing is both appropriate and festive for spring and a hue combination that doesn't kowtow to trends. That one man in the back customized his look with creative accessorizing, kneepads (or bandages) cinched just so at the knee.
Perhaps by accident, competing teams the Houston Rockets and the Chicago Bulls managed to strike a sweet synergy in bold color choices, the Rockets' white and maroon viscose tanks contrasting perfectly with the Bulls' red, black, and white look. The Bulls jersey, of course, is one of the most iconic in all of fashion thanks to former Bull Michael Jordan, and it has been replicated on everything from a custom Pretty Woman dress worn by Miley Cyrus to a maillot worn by Beyoncé. Here, though, in its natural environment on Cristiano Felicio, it proves that fast fashion is just that, and smart consumers should accept no imitation.
Again, a study in excellent contrasts! The team from Oklahoma City flipped the script by crafting short sleeve ringer tees in a breathable fabric for its players, and this gentleman—Russell Westbrook—knows that an all-white look is both chic and extremely on trend, particularly transitioning from winter to spring; he layered his top with loose-fitting shorts, crisp white leggings, boxfresh athletic socks and kicks in an eye-catching shade of tangerine. He also must have had some foresight into his opponents' look—that's a player from the Clippers of Los Angeles—because he stands out against their basic black with red and white detailing.
The looks overall at the Games were excellent, though if I had one critique, it's that the costuming across the association relies a little too much on variations of red. There are other strong hues that would be just as vibrant and not as cliché—why not puce or chartreuse? The designers really should start working with a wider range of Pantone swatches.
When the Nets debuted in Brooklyn a few years ago, they were praised for their chic New York redesign in a Jay Z approved black and white, so bold and modern that Brooklynites began wearing their gear even if they did not support the team. (A savvy business move by ultimate businessman Jay, who used to conduct his operation just down the way from Barclays Center.) However, one thing that they didn't seem to anticipate was the way that sleek black would look when the team played the Cleveland Cavaliers, whose costumes are frankly a mess in orangey-yellow. This looks like this poor man was attacked by a team of bees. His name is Tristan Thompson and he looks frustrated; at least we can empathize with his style conundrum. Free Tristan Thompson from this hideous hive of men.
It's actually rude, when players such as Stephen Curry show up in such perfectly fly fits with such excellent logos, to dress like most of the people in the stands are dressed. You have front row, floor tickets to what I'm sure is a very important basketball game and you're going to wear some blazer from the back of your closet you got six years ago at a Club Monaco sample sale? That's like Giuliana, my dreaded son, showing up at the Emmys in something from 2006 Kitson. My dude, step it up a little, you're on display! Anyway, the Golden State Warriors have a great logo, because it depicts a bridge, which easily allows me to surmise where the Golden State Warriors are from. (The Bay Area, right?) Cool.
I still don't know why the Utah Jazz are called the Utah Jazz. I have been to Utah, unfortunately, and there appears to be no jazz there. They don't even have beer. It all seems deliberately misleading. Also, their costumes are boring, though they do have a quite creative logo, with a quarter note forming the J.
If I recall correctly, the Boston Celtics used to contrast their signature green—oh, that iconic shamrock!—with a summer white; switching to black was a mistake, as the darker shade of emerald doesn't quite mesh with the black darting of the shorts, though it does give the illusion of the wearer being larger and more intimidating on the court—which, surely, is the point. Still, the Portland Trailblazers seem to be unphased in a classic silhouette that recalls 1970s sportif, something like the virulent revival of the Stan Smith; the stripes and Blazers logo curlicue are simple and clean, as is the font. It gets the job done.
The Orlando Magic have flexed with a sharp pinstripe that gives a more formal illusion to their athletic line; with the athleisure trend in full, unstoppable bloom, taking casual fabrics to a logic place of businesslike formality is definitely the next step, and the Magic are at the forefront of this trend. Truly visionary, though player 10 could use more accessorizing; his counterpart, aware that his Pacers uniform is slightly plain, has spruced up his look with a white gauntlet on his left arm, a bold style choice.
In a world where the labels a famous person wears are preordained by their stylist's brand partnerships, it's nice to see some men who are bucking the trend. Until next time, adios!
---
Images via AP