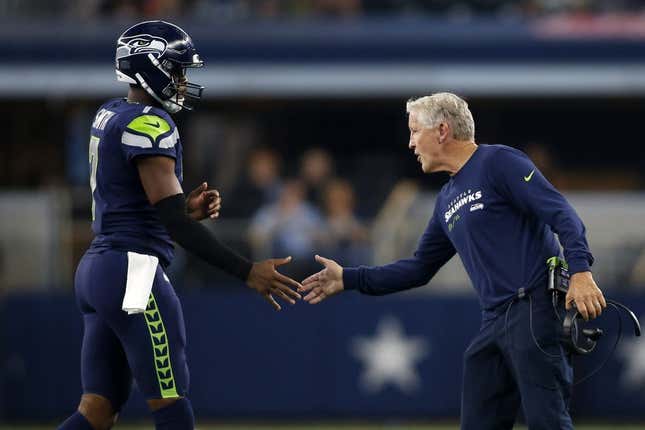 With a new three-year, $105 million contract in tow, Geno Smith was celebrated as the quarterback of the present for the Seattle Seahawks.
In a press conference at team headquarters Thursday, Smith was showered with appreciation from the Seahawks for his commitment to the franchise and belief in himself. Smith stepped into a starting role, which was never truly contested by Drew Lock, after the Seahawks traded Russell Wilson to the Denver Broncos last March.
The 32-year-old Smith delivered while making $3.5 million last season, guiding the Seahawks to a wildcard playoff spot, earning a Pro Bowl nod and now cashing in with a contract that could pay him 30 times his 2022 rate.
"There were a lot of years when Geno just had to sit there, waiting," head coach Pete Carroll said, seated to Smith's right and opposite general manager John Schneider at a press conference Thursday afternoon. "The story that has been unveiled about believing in yourself and confidence and trust and never giving up is just a vivid illustration of Geno. He always knew. He always knew he could do this. When it happened, the opportunity was there, and you handled it so flawlessly."
Carroll said Smith approached the Seahawks about a team-friendly deal that ties more than $30 million to incentives and performance bonuses. Carroll said he wasn't surprised to hear Smith say his concern was leaving the team room to build a championship team around him.
"I believe in team first," Smith said Thursday.
Smith was named NFL Comeback Player of the Year in 2022. He was a backup for seven seasons with four different teams and all but discounted as a serious option to be Seattle's starter for even one season. He set franchise single-season records for passing yards (4,282), completions (399), completion percentage (69.8) and pass attempts (572), breaking three previous Wilson records.
"I know you know this, but what an inspiration you've been to men, women, young, old, all around the country," Schneider said. "Lessons about faith, perseverance, work ethic. Being a good person, man. Watching you last year was awesome, and I know you're super-excited about the future. So thank you to you."
Last week, Schneider said at the NFL Scouting Combine the Seahawks are digging deep into the quarterbacks in the 2023 draft, and Carroll called the No. 5 pick -- part of the return from the trade return from the Broncos for Wilson -- a "rare opportunity."
Schneider, raised in the Green Bay scouting department where quarterback insurance was a top priority, nodded and smiled when asked if Seattle could keep Smith and spend a high pick on a quarterback in the 2023 draft.
"They don't grow on trees," he said.
--Field Level Media