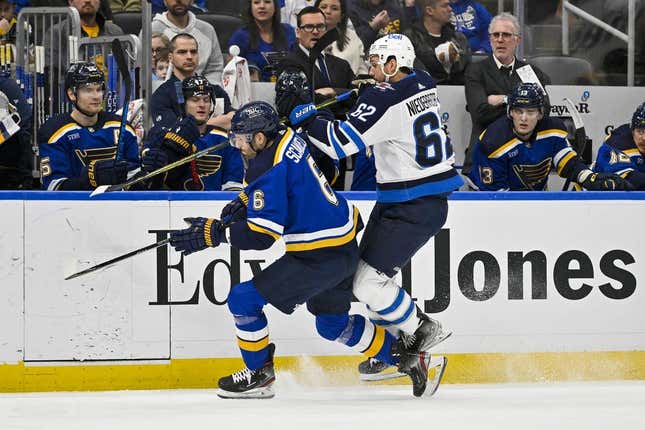 Joel Hofer and Thomas Greiss combined for a 34-save shutout as the St. Louis Blues defeated the visiting Winnipeg Jets 3-0 on Sunday.
'Soccer fandom is full of gatekeepers' says Ted Lasso actor Brendan Hunt
Hofer made 33 saves in his second game filling in for Jordan Binnington, who completed his two-game NHL suspension Sunday. Greiss stopped the only shot he faced while Hofer was out of the game for a skate repair.
Kasperi Kapanen had a goal and an assist for the Blues (31-33-5, 67 points), who have won four of their last six games. Nathan Walker and Jakub Vrana also scored for St. Louis.
Connor Hellebuyck made 14 saves for the Jets (39-29-3, 81 points), who suffered their third loss in their last four games.
The Blues played with five defensemen for most of the game after Torey Krug earned a double-minor roughing penalty, an unsportsmanlike penalty, a misconduct and a game misconduct after wrestling with Winnipeg's Kevin Stenlund in the first period.
The Jets applied pressure from the opening faceoff, putting the first five shots of the game on Hofer and getting Blake Wheeler's redirection off the left post.
But the Blues struck first with Kapanen's goal 4:04 into the game. Nick Leddy moved in through the slot, drew Hellebuyck's attention and set up Kapanen's redirection from outside the right post for a 1-0 lead.
St. Louis killed off a four-minute Winnipeg power play late in the first period to protect its one-goal lead.
The Jets suffered another near-miss when Pierre Luc-Dubois hit the post with a redirection early in the second period.
Walker increased the Blues' lead to 2-0 midway through the second period. Justin Faulk zig-zagged through the Winnipeg zone, then slid a backhand pass to Walker for his shovel shot at the right post.
Vrana made it 3-0 by taking Kapanen's outlet pass and scoring a breakaway goal with eight minutes left to play in the third. That came shortly after Hofer made an excellent skate save on Dylan DeMelo's redirected shot.
--Field Level Media