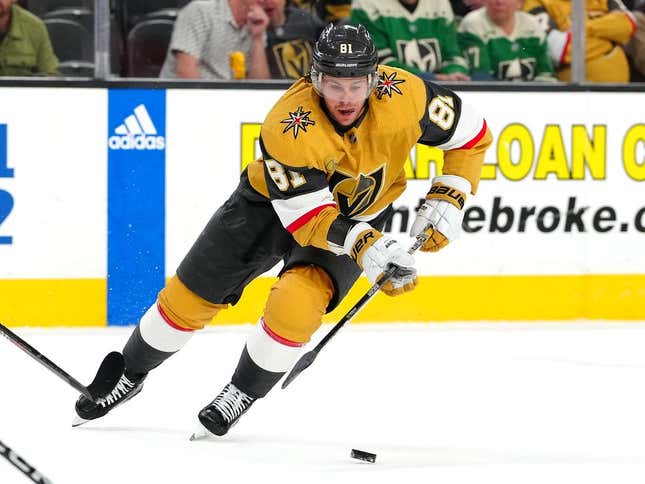 The Vegas Golden Knights can hit the 100-point mark and also clinch a playoff spot on Thursday night when they visit the San Jose Sharks
Vegas (46-22-6, 98 points) remains two points ahead of the second-place Los Angeles Kings (43-21-10, 96 points) with eight games remaining and three points ahead of third-place Edmonton (43-23-9, 95 points), which has seven games left, in the battle for the Pacific Division title.
The Golden Knights, who are 17-4-2 since the All-Star break, come in off a 7-4 loss to the Oilers on Tuesday in Las Vegas. That contest was tied 3-3 early in the second period before the Oilers pulled away with four unanswered goals that sent fans scurrying to the exits early
"It's disappointing," said Vegas center Jonathan Marchessault, who scored two goals, including one with just 1:32 remaining to finally stop Edmonton's surge. "If you're down one, two, three goals, it shouldn't matter. It shouldn't dictate the rest of the game. And that's what disappointed me today.
"I think we were down a couple times. Normally our DNA as an organization is we battle back, like we're never out of a game. And tonight we didn't show that. And that's what's most disappointing for us."
Marchessault said the team discussed its lack of intensity afterward.
"Midnight is a new day and you move on, but we've got to learn from that for sure," he said. "It's on us to play the right way and win a hockey game."
Vegas coach Bruce Cassidy said, "Listen, I think we all wanted to win and play better. I don't think we had it. And as much as we wanted to push through, I don't think the energy level was there to overcome a team that was feeling really good about its game."
Cassidy said it's important that the Golden Knights bounce back against the Sharks (20-39-15, 55 points), who are last in the Pacific. The remainder of Vegas' schedule is much tougher with back-to-back games against Central Division-leading Minnesota as well as road games at Nashville and Dallas, a home showdown with the Kings and a season-ending home-and-home with Seattle
"Is it a one-off or not?" Cassidy said of the sloppy loss to the Oilers. "We'll have much more clarity (Thursday) at 10 o'clock. Is it just one of those games? Hopefully, our mindset is we want to correct (Tuesday) and get back to playing our type of game."
San Jose comes in after snapping a nine-game losing streak (0-6-3) with a 3-0 victory over the visiting Winnipeg Jets on Tuesday.
Sharks goaltender James Reimer made 41 saves en route to his third shutout of the season and the 28th of his career. Noah Gregor led the offense with a goal and an assist, and Erik Karlsson had an assist, his 91st point of the season -- tops for all defensemen in the league
It was just the seventh home win for the Sharks (7-20-10), who are the only team in the NHL without double-figure home victories. It was also San Jose's first home win since Feb. 20 against the Kraken
"It's as solid a win as we've had in a while, and we haven't had a win in a while," San Jose coach David Quinn said with a smile. "It was a good win, obviously. (Reimer) played great. I thought we were opportunistic. It was a gutsy performance in a lot of ways against a team that's fighting for a playoff spot."
--Field Level Media