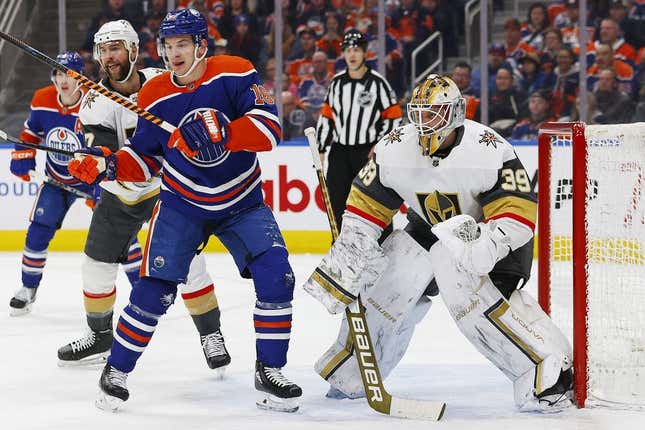 Nicolas Roy put in a rebound of his own shot at 2:26 of overtime to give the visiting Vegas Golden Knights a 4-3 victory over the Edmonton Oilers on Saturday night.
Chris Paul should ride the bench next season | Keep it a Buck(et)
Roy, left alone in front of the net, took a pass from Jack Eichel and was stopped on a backhand try by Edmonton goaltender Stuart Skinner. But Roy scooped up the rebound and swept it in around Skinner's left leg for the game-winner.
Eichel had a goal and two assists, Jonathan Marchessault added a goal and an assist, and Pavel Dorofeyev also scored for Pacific Division-leading Vegas (46-21-6, 98 points), which tied a team record with its seventh straight road victory. The Golden Knights improved to 24-7-5 on the road, a team record for road wins in a season.
Laurent Brossoit, the fourth different starting goalie in four games for the Golden Knights, made 27 saves in his first game since suffering a lower-body injury on Feb. 25 against the Dallas Stars.
Leon Draisaitl had a goal and an assist, and Zach Hyman and Warren Foegele also scored for Edmonton (41-23-9, 91 points), which had a five-game winning streak snapped. Skinner finished with 31 saves.
Vegas took a 1-0 lead at 1:01 of the first period. Eichel finished an odd-man rush with Ivan Barbashev with a wrist shot from the bottom of the right circle past Skinner's blocker side and inside the far post for his 27th goal of the season.
Edmonton rebounded to tie it 2 1/2 minutes later when Hyman drove in a Draisaitl pass through Brossoit's pads for his 31st goal.
The Golden Knights regained the lead near the end of the first period on a power-play goal by Dorofeyev.
The Oilers tied it, 2-2, midway through the second period on a power-play goal by Draisaitl. He took a Connor McDavid pass at the bottom of the right circle and then spun around and fired a shot through Brossoit's pads for his 45th goal and league-leading 28th power-play tally.
Marchessault then gave Vegas its third lead of the game at the 6:57 mark of the third period, when he one-timed a Eichel pass from the top of the slot for his 24th goal.
Edmonton tied it midway through the period when Foegele skated in and snapped a shot from the top of the left circle under Brossoit's left arm.
--Field Level Media