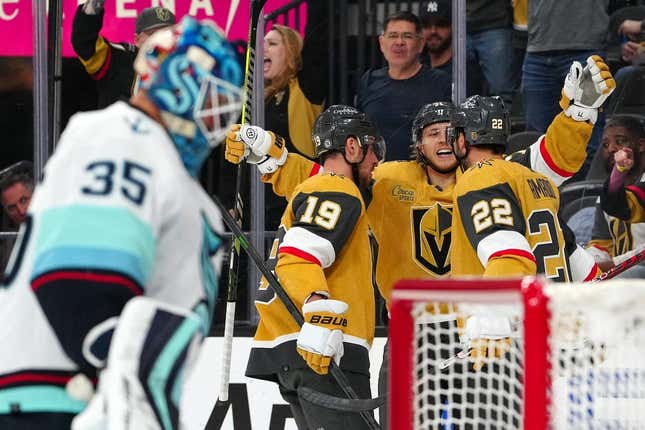 Reilly Smith is glad the Vegas Golden Knights will have something on the line when they wrap up their regular season against the host Seattle Kraken on Thursday night
Aaron Rodgers should go full Joe Namath | Comedian Bert Kreischer
The Pacific Division-leading Golden Knights (50-22-9, 109 points) will be looking to officially lock down the division, and they remained two points ahead of Edmonton with a 4-1 victory against the visiting Kraken (46-27-8, 100 points) on Tuesday
"(Playing a meaningful game Thursday) is good for us," said Smith, who had a goal and two assists Tuesday. "Sometimes, you take your foot off the gas and start the playoffs maybe a step behind. There's no reason for that. A lot on the line. I'm looking forward to the game Thursday."
Michael Amadio added two goals and an assist, and Laurent Brossoit made 20 saves for Vegas, which extended its point streak to seven games (4-0-3).
"We learned a lot about how (the Kraken) play, and we're going to try to do the same thing when we go there," Amadio said. "But it's a tight race, so all the points matter.
The Golden Knights' Bruce Cassidy, who became the first coach in league history to win 50 games in consecutive seasons with different teams after going 51-26-5 with Boston in 2021-22, praised Amadio for his two gritty goals
"You need that element of (crashing the net)," Cassidy said. "When Ammo's done it, he's been rewarded. It's just a reminder to do it every day. Ammo comes up as a junior guy and minor pro, he's the guy making the play to the guy to the net. Now the shoe's on the other foot. So, he has to be that guy who goes there, and he's bought into it well.
"Give him credit for changing what he has to do to complement a line."
Golden Knights forward Jack Eichel missed his second consecutive game with a lower-body injury, but it didn't matter against a Kraken team playing the second half of a back-to-back after a 4-1 victory Monday in Arizona
Yanni Gourde scored and Joey Daccord made 33 saves for Seattle, which had a five-game winning streak snapped. The Kraken have locked up the Western Conference's top wild-card berth, but could still catch Los Angeles for third place in the division
"We're not happy with the result; not a lot (of) energy tonight," Seattle coach Dave Hakstol said. "We had a good burst for probably the first 15, 16 minutes. We just couldn't find any energy in the second and third. They played well. They were on top of us. They didn't give us a lot of time and space. When you're a half-step slow and not a ton of energy, it was a tough night to generate anything with the puck."
The Kraken finished the regular season with a 26-11-4 road record
"We've got to prepare to be better our next game, but it's good to have a little bit of a measuring stick there," Gourde said. "You see the top teams in the league and how they play."
The Golden Knights have a 2-1 edge in the season series, including a 5-2 victory Oct. 15 at Seattle
--Field Level Media