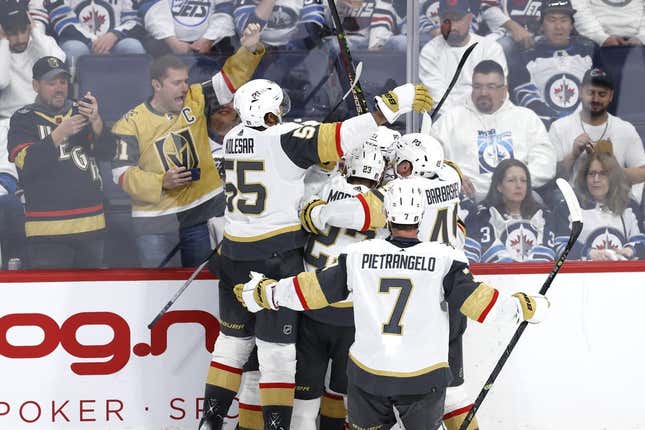 When it comes to candidates to win a Stanley Cup playoff game in double overtime, it's fair to say Michael Amadio isn't very high on the Vegas Golden Knights' list
'Soccer fandom is full of gatekeepers' says Ted Lasso actor Brendan Hunt
A waiver claim after being released by Toronto on Oct. 30, 2021, Amadio was a healthy scratch 15 times this season for the Golden Knights despite scoring a career-high 16 goals. But the versatile 26-year-old forward had the biggest goal of the season so far when he scored the game-winner 3:40 into the second overtime to give Vegas a 5-4 win at Winnipeg in Game 3 of their Western Conference first-round series on Saturday
Despite blowing a 4-1 lead in the third period of Game 3, the top-seeded Golden Knights take a 2-1 lead in the best-of-seven series into Monday night's Game 4 in Winnipeg
Amadio slapped a loose puck from the slot off the crossbar and in for the game-winner and his first career playoff goal.
"Overtime is like that sometimes," Vegas coach Bruce Cassidy said. "It's the guy you least expect. And he finished well."
"It was a pretty special feeling, obviously," Amadio said with a smile. "I think every kid dreams of scoring an OT winner in the playoffs."
Amadio, who has bounced between the first and fourth lines and played center and both wing spots during the season, was in the right spot at the right time. Jets defenseman Dylan Samberg's clearing pass from the end boards ricocheted off the shin guard of Vegas forward Ivan Barbashev right to Amadio, who quickly unleased a spinning slap shot over the glove of Connor Hellebuyck
"I think it went off (Barbashev's) shin pad right into the slot, and I kind of just wanted to get it on net and, luckily, it went in," Amadio said.
It was a crushing finish for the Jets, who had rallied to tie it 4-4 with 21.9 seconds left after pulling Hellebuyck when Adam Lowry put in a rebound of Neal Pionk's shot. Winnipeg also had a chance to win it in the first overtime, but Pierre-Luc Dubois' close-in wrist shot bounced off the post
"The guys laid it all out there in the game tonight," Winnipeg coach Rick Bowness said. "They played their hearts out. Very proud of the way we played. We're down three going into the third and we kept fighting. There's no quit in this group."
The Jets did it despite playing with just five defensemen. All-Star Josh Morrissey, the team's second-leading scorer in the regular season with 76 points (16 goals, 60 assists), left after playing just two shifts with a lower-body injury that Bowness said will sideline him for the remainder of the series
"He's a top-five (defenseman) in this league right now," Bowness said. "He plays all the important minutes. He's a guy that drives the offense, so he's a big hole (to fill). We played the rest of the game without him and we scored four (goals), and we're going to have to find a way to play the rest of the series without him because this series is far from over."
Despite the loss of both the game and arguably their best player, the Jets were upbeat about still coming back and winning the series
"It's not like we're losing a game like that and sulking around here," defenseman Brenden Dillon said. "We're ready for Game 4 already and we've got to take that confidence with how that game ended."
"It's our job now to be ready for Game 4," said Lowry, who has scored a team-best four goals in the series. "We're excited about the opportunity. There's a lot of believe in this group that we can get it done and even the series going back to Vegas."
--Field Level Media