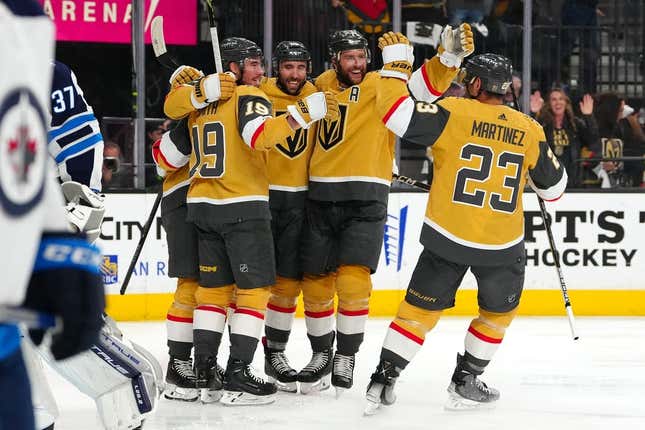 Chandler Stephenson scored two goals to lead the Vegas Golden Knights to a series-clinching, 4-1 victory over the Winnipeg Jets in Game 5 of a Western Conference first-round playoffs series on Thursday in Las Vegas
Bass' ERA stinks, but not compared to who he is off the mound | Worst of the Week Countdown
Mark Stone added a goal and two assists and William Karlsson also scored for Vegas, which roared back from a 5-1 loss in Game 1 to win the best-of-seven series four games to one.
Stephenson registered the first two-goal playoff game of his career, and Stone notched his second three-point game of the 2023 playoffs.
The Golden Knights will face the Edmonton Oilers-Los Angeles Kings winner in the second round. The Oilers hold a 3-2 series lead heading into Game 6 on Saturday in Los Angeles
Vegas goalie Laurent Brossoit finished with 30 saves to improve to 9-1-0 in his past 10 starts dating back to the regular season.
Kyle Connor scored and Connor Hellebuyck made 21 saves for Winnipeg.
Vegas scored on its first shot 50 seconds into the game to take a 1-0 lead. Stephenson put a backdoor tap-in into an open left side of the net off a pass from Stone.
The Golden Knights then scored three times in the first 8:37 of the second period to break the game open
Stone made it 2-0 just 42 seconds into the period. His wrist shot from the high slot went into the top right corner of the net for his third goal of the playoffs. It was the 26th playoff goal of his career.
Karlsson increased the lead to 3-0 at the 4:41 mark. He one-timed a Michael Amadio pass into an open right side of the net for his fourth goal of the playoffs and 23rd of his career.
Stephenson finished the spurt with a power-play goal, snapping a shot off a Stone pass from the left circle under Hellebuyck's pads for his fourth goal of the playoffs.
Winnipeg coach Rick Bowness pulled Hellebuyck for an extra attacker with 8:18 left in the third period. Connor, shortly after Stone just missed an empty-netter, broke the shutout with 5:38 to go when he shoveled in a Blake Wheeler pass from the low slot.
The Jets appeared to cut it to 4-2 with 2:35 left when Pierre-Luc Dubois jammed in a rebound of a Adam Lowry shot. However, the goal was taken off the board when Vegas successfully challenged that Wheeler had made a hand pass while winning a faceoff to start the play
Vegas forward Phil Kessel was a healthy scratch, the first time he missed a game since Oct. 31, 2009. However, Kessel's NHL ironman record of 1,064 consecutive games remains intact because playoff games don't count for that mark.
--Field Level Media