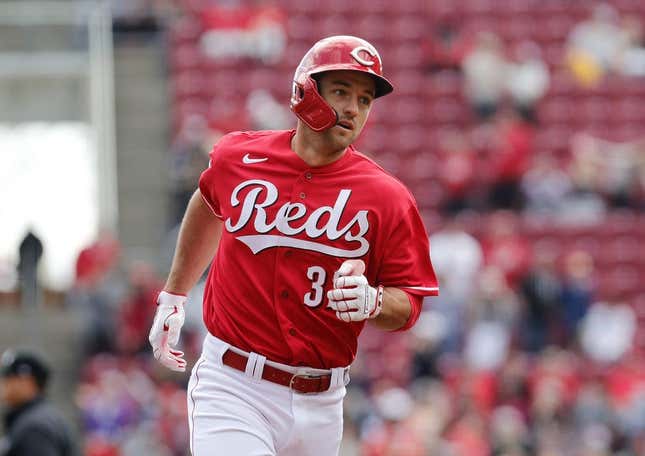 Graham Ashcraft tossed seven strong innings and Jason Vosler and TJ Friedl each belted a solo homer as the Cincinnati Reds posted a 3-1 win over the visiting Pittsburgh Pirates on Sunday
Chris Paul should ride the bench next season | Keep it a Buck(et)
Ashcraft (1-0) needed just 96 pitches to strike out six with one walk while holding the Pirates to one run on four hits
Alexis Diaz pitched a perfect ninth for his first save of the season after finishing Saturday's 6-2 win over the Pirates
Vosler also doubled while Jonathan India singled twice and scored. India has five hits in 11 at-bats to open the season.
After losing 100 games last year, the Reds are over .500 for the first time since winning the 2022 season opener in Atlanta
The Reds continued their early-season power surge with two more home runs. They belted six in the season-opening series
Vosler put the Reds on top with his first home run in a Cincinnati uniform, a drive to the bleachers in right for a 1-0 lead with one out in the second inning. Friedl lined a Vince Velasquez fastball several rows deep to the seats in right-center to put the Reds ahead 3-1 in the fifth
Ashcraft was in complete control with the exception of the fourth, when Bryan Reynolds led off with a 410-foot homer to right-center field. The blast cut Cincinnati's lead to 2-1, and Andrew McCutchen followed with walk.
Cincinnati pitching coach Derek Johnson visited the mound to chat with Ashcraft. The conversation apparently worked, as Carlos Santana lined out, Ji Man Choi struck out and Ke'Bryan Hayes grounded out to end the inning.
Velasquez (0-1) took the loss in his first start of the season, allowing three runs and five hits over 4 2/3 innings. He was chased from the game after the Friedl home run.
The Pirates threatened again in the eighth as reliever Alex Young replaced Ashcraft
Pinch-hitter Rodolfo Castro singled softly into left field and Oneil Cruz blooped a single to left that put runners at first and second with none out.
Young, however, retired Reynolds on a liner to right. Derek Law entered the game to retire the next two batters to stop the rally and protect the two-run lead.
--Field Level Media