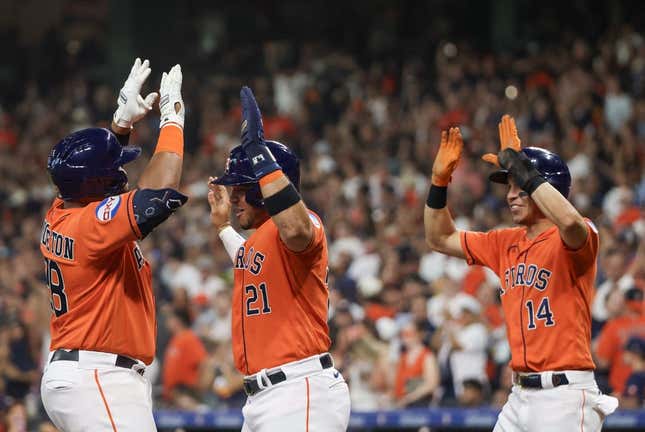 In terms of timing, Houston Astros first baseman Jon Singleton could not have picked a better night to produce in the manner that he did
How running an NFL team is like running a restaurant | Chef Emeril Lagasse
After cranking his first home run in eight years and 13 days, Singleton recorded his first career multi-homer game en route to five RBIs while leading the Astros to an 11-3 victory over the visiting Los Angeles Angels on Friday
He will look to help the Astros try to clinch a series win against the Angels on Saturday in Houston
Singleton was signed by the Astros to a minor league contract on June 24 and recalled from Triple-A Sugar Land on Tuesday. He took full advantage of the absence of veteran first baseman Jose Abreu, who is scheduled for an MRI on his bothersome back and could miss an extended period of time
Singleton, formerly a touted prospect who was out of baseball for seven years after numerous drug suspensions, capitalized on the opportunity and finished 3-for-4 with a walk, a three-run homer in the second plus a two-run shot in the third. His span between homers was the longest by any position player since Rafael Belliard once went 10 years and 144 days without a homer between 1987 and 1997
"I feel phenomenal about (the opportunity ahead)," Singleton said. "For the most part, hopefully, I can just be a piece to the puzzle.
Singleton, 31, said he has not had a conversation with Astros manager Dusty Baker regarding playing time. The duration that Abreu is sidelined could dictate what lies immediately ahead
"That was great," Baker said. "It was great for him in his second stint here. It's a great story.
Rookie right-hander J.P. France (8-3, 2.75 ERA) has the starting assignment for the Astros on Saturday
France worked out of the bullpen for the first time in his previous appearance and allowed one unearned run on three hits and three walks with four strikeouts over 3 1/3 innings in a 9-7 win over the New York Yankees on Sunday. It marked his sixth consecutive winning decision, and France is 6-0 with a 1.73 ERA and five quality starts during those seven appearances
France has faced the Angels twice this season and has yet to record a decision while posting a 2.38 ERA. In his previous start against the Angels, he allowed four runs (two earned) on nine hits with two strikeouts over 4 1/3 innings in a 7-5 road victory on July 14
Left-hander Tyler Anderson (5-3, 4.92) is the scheduled starter for the Angels
Anderson took the loss against the Seattle Mariners last Saturday after allowing two runs on two hits and three walks with six strikeouts over five innings in a 3-2 setback. He has 11 no-decisions this season, tied for the eighth-most in the majors this season, and posted a 2.84 ERA over his last five starts since the start of July
Anderson is 0-1 with a 6.37 ERA over six career starts against the Astros. He did not factor into the decision in his lone start against Houston this season after allowing one run on five hits and two walks with five strikeouts over three innings in the Angels' 9-8 home loss on July 16
Left-hander Kenny Rosenberg made his season debut for the Angels and delivered a yeoman's effort tossing 89 pitches over five innings of relief. He made 19 starts for Triple-A Salt Lake prior to having his contract selected last Saturday
"What he did was tremendous," Angels manager Phil Nevin said. "He's obviously been starting and had that pitch count in mind -- I was thinking 85, 90 and didn't want to go past that. That could potentially save us a lot for this weekend.
--Field Level Medi