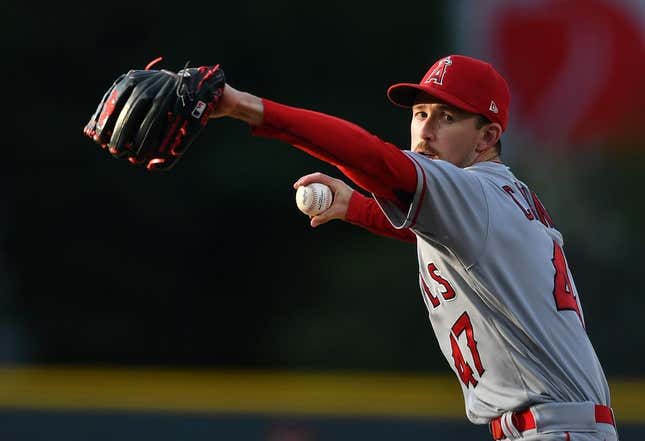 Los Angeles Angels right-hander Griffin Canning will look to continue his strong pitching on Friday when he takes the mound against the visiting Arizona Diamondbacks in Anaheim, Calif
How running an NFL team is like running a restaurant | Chef Emeril Lagasse
Canning missed half of the 2021 season and all of the 2022 campaign due to a stress fracture in his back. He has come back strong this season, going 6-2 with a 3.99 ERA in 12 starts.
It didn't happen quickly, however.
Canning was 2-2 with a 6.14 ERA in his first six starts before turning things around.
It all started with his start on May 23, when he scattered two hits over seven scoreless innings in a 4-0 win against the Boston Red Sox.
After that game, Angels manager Phil Nevin uttered words that have proved to be prophetic
"I think tonight is a big stepping stone for him," Nevin said after that game in Anaheim. "It's finally like, 'OK, here I am and I'm back and it's been two years.' And finally you get a good one under your belt and you can run with it."
Canning is 4-0 with a 2.25 ERA in his past six starts, holding opposing hitters to a .197 batting average.
He has faced Arizona once in his career, earning a victory on Sept. 17, 2020. He held the Diamondbacks to two runs (one earned) on six hits in five innings of a 7-3 win
Left-hander Tommy Henry (4-1, 4.31 ERA) will make his 12th start (13th appearance) this season for Arizona and is coming off one of his best starts. He gave up one run in 6 2/3 innings in a 5-3 victory over the Washington Nationals.
Henry doesn't have an overpowering fastball so he relies on his changeup, which he continues to work on -- and the results have been positive. He's held the opposition to two runs or fewer in four of his past six starts.
"(My changeup) has been feeling pretty good as of late," Henry said. "I feel like the command of it, I'm able to command it in the bottom part of the zone more consistently, which is the biggest part of a changeup.
"Swings and misses are nice, but you kind of want action on it. You want the ground ball, you want the double play, you want something to get back into counts. And so it's kind of become a pitch that I can use in those situations."
Henry yet to face the Angels in his career
Corbin Carroll's status for Friday's game is uncertain after the 22-year-old Diamondbacks outfielder left Thursday's 6-1 loss to the Rays because of a sore right shoulder -- the same day the rookie was named an All-Star Game starter for the National League
Carroll, who is hitting .290 with 17 homers and 44 RBIs in 79 games, appeared to hurt his shoulder on a swing and miss in the third inning. He played defense in the top of the fourth but came out of the game after the half-inning.
Carroll had surgery on the same shoulder in 2021 to repair a torn labrum, causing him to miss all but seven games while playing in the Diamondbacks' minor league system
--Field Level Media