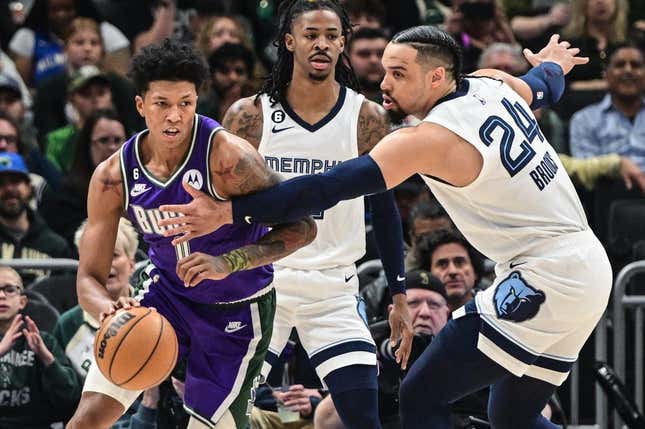 Jaren Jackson Jr. scored 36 points to lead seven players in double figures as the visiting Memphis Grizzlies clinched the No. 2 seed in the Western Conference with a 137-114 win over the Milwaukee Bucks on Friday
Luke Kennard had 19 points, Desmond Bane added 16, and John Konchar scored 13 for Memphis (51-30), which took control after going on a 25-2 run in the third quarter. Ja Morant tallied 12 points and eight assists, Dillon Brooks scored 11, and Tyus Jones had 10.
Milwaukee (58-23) rested six rotation players against the Grizzlies after wrapping up the top seed in the NBA playoffs earlier this week. Lindell Wigginton recorded career highs with 25 points and 11 assists, Jae Crowder scored 24, Goran Dragic had 14, MarJon Beauchamp added 13, and Thanasis Antetokounmpo had 12
Kennard made three 3-pointers and scored 11 points in the first quarter to help give Memphis a 36-31 lead.
Playing its final home game of the regular season, Milwaukee trailed by 11 early in the second quarter before moving ahead 69-65 on Wigginton's trey with just over two minutes remaining in the half.
Crowder and Wigginton combined for 34 points in the first half for the Bucks, who held a 72-71 advantage at the break. Jackson had 22 points to lead all scorers
After shooting 15 of 30 (50 percent) from 3-point range in the first half, Milwaukee's offense sputtered in the third quarter.
With the game tied at 79 early in the period, the Grizzlies went on a 25-3 run to move ahead 104-79
Jackson finished with five 3-pointers for Memphis, which led by double digits throughout the fourth quarter. The Grizzlies shot 57 percent from the field and 20 of 42 (47.6 percent) from beyond the arc for the game
The Bucks shot 45.7 percent from the floor and 21 of 49 (42.9 percent) from 3-point range
Milwaukee played without Giannis Antetokounmpo (right knee soreness), Khris Middleton (right knee soreness), Jrue Holiday (rest), Brook Lopez (rest), Pat Connaughton (right ankle sprain) and Grayson Allen (right ankle sprain).
Bucks guard AJ Green started and played 15 minutes before exiting with a sore right foot
--Field Level Media