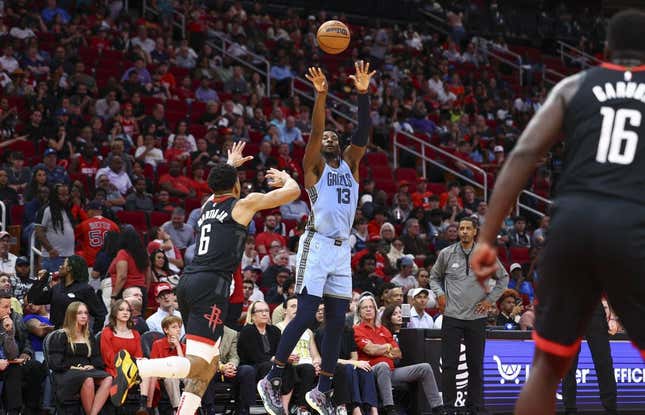 Desmond Bane scored 21 of his 30 points in the second half as the Memphis Grizzlies snapped an eight-game road losing streak with a 113-99 win over the Houston Rockets on Wednesday.
Ja Morant had 20 points, seven rebounds and seven assists for Memphis, which led by as many as 28 and won its third straight overall. Jaren Jackson Jr. added 17 points and five blocks, and Dillon Brooks scored 16 points.
Jalen Green scored 20 points to lead Houston, while Kenyon Martin Jr. added 19, and Alperen Sengun had 11 points, eight rebounds and five assists. The Rockets have lost 11 straight games and 31 of their past 35.
Memphis led by three at the half before outscoring Houston 38-24 in the third quarter. The Grizzlies lead the NBA in third-quarter points per game with 31.2.
The Grizzlies have won seven of the last eight meetings against Houston, which shot 40 percent from the field and 11 of 34 (32.4 percent) from beyond the arc.
Houston trailed 25-19 after shooting 6 of 26 (23.1 percent) from the field and 2 of 13 (15.4 percent) from 3-point range in the first quarter.
With Memphis struggling on the offensive end, the Rockets rallied to pull ahead 36-35 midway through the second quarter. Martin scored 12 points in the first half for Houston, which trailed 47-44 at the break.
Memphis took control after halftime with Bane, Morant and Brooks combining for 34 third-quarter points. Memphis erupted in the third quarter for the second straight game after scoring 47 points in the period during Tuesday's 121-109 win over the Los Angeles Lakers.
Bane scored the final six points of the quarter to put the Grizzlies ahead 85-68. The third-year guard went 12-for-17 from the field, including a 6-for-9 showing from 3-point range.
The Grizzlies carried the momentum into the fourth quarter and stretched their lead to 106-79 on Tyus Jones' trey with 7:37 remaining. Memphis finished the game shooting 48.2 percent from the field and 17 of 41 (41.5 percent) from beyond the arc.
Rockets guards Jae'Sean Tate and Kevin Porter Jr. scored 11 points apiece, while Tari Eason had 10. Porter played 26 minutes after missing the past 20 games with a bruised toe.
--Field Level Media