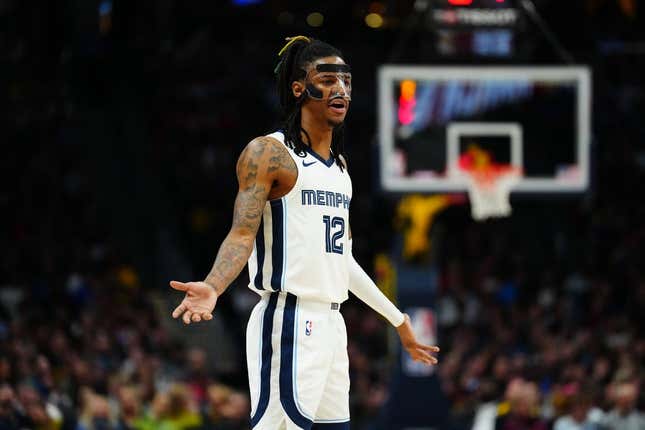 The Memphis Grizzlies will be without star Ja Morant for a pair of games at Los Angeles, the first of which will take place Sunday against the Clippers.
How running an NFL team is like running a restaurant | Chef Emeril Lagasse
Morant was suspended two games by the NBA after he appeared in an Instagram Live video in the early hours Saturday while at a nightclub with what appeared to be a gun in his hand.
Morant, who also will be forced to miss Tuesday's game against the Lakers, will not be on the court for the first time since Feb. 5. He is coming off a 27-point performance in a 113-97 loss to the Denver Nuggets on Friday.
"I'm going to take some time away to get help and work on learning better methods of dealing with stress and my overall well-being," Morant said in a statement, lending to some uncertainty about whether he will return for Thursday's home game against the Golden State Warriors.
Memphis is 6-3 since Feb. 7, with Morant averaging 26.1 points, 6.7 rebounds and 7.6 assists over that stretch. The Grizzlies stand in second place in the Western Conference, with Friday's loss coming against the first-place Nuggets.
The Grizzlies' troubles are further compounded by the fact that forward Brandon Clarke is lost for the season after he came away from Friday's game with an Achilles injury. And guard Dillon Brooks will be suspended for Sunday's game after he received his NBA-leading 16th technical foul on Friday.
The Clippers enter Sunday's game on a five-game losing streak, with the latest defeat a 128-127 heartbreaker on the road Friday against the Sacramento Kings. Domantas Sabonis made two free throws for Sacramento with seven seconds remaining and Los Angeles' Paul George missed a potential game-winning 3-pointer at the buzzer.
Kawhi Leonard missed Friday's game because of load management after he missed all of last season following knee surgery.
In his fifth game with the Clippers, Russell Westbrook scored 28 points, but his new team remains winless with him on the floor. It was the Clippers' second tough-luck loss against the Kings in just over a week after a 176-175 double-overtime loss to the Kings at home in Westbrook's debut with the team.
"I thought he was great," Clippers head coach Tyronn Lue said of Westbrook's play Friday. "I thought they tried to protect the paint and sag off him and he did a good job of catching and still attacking and getting to the rim."
Of primary concern is what could be the extended absence of Clippers sharp-shooter Norman Powell, who did not play Friday after he injured his shoulder against the Warriors.
Marcus Morris Sr. also missed Friday's game for the Clippers with an elbow injury, while Ivica Zubac has missed four of the past five games with a strained right calf.
"Unfortunately, we're not winning the games," Westbrook said. "But I do have a lot of confidence in the guys in the locker room and tonight was a good step in the right direction."
With just one month remaining in the regular season, the Clippers and Grizzlies are meeting for the first time. They will also meet in back-to-back games March 29 and 31 at Memphis.
--Field Level Media