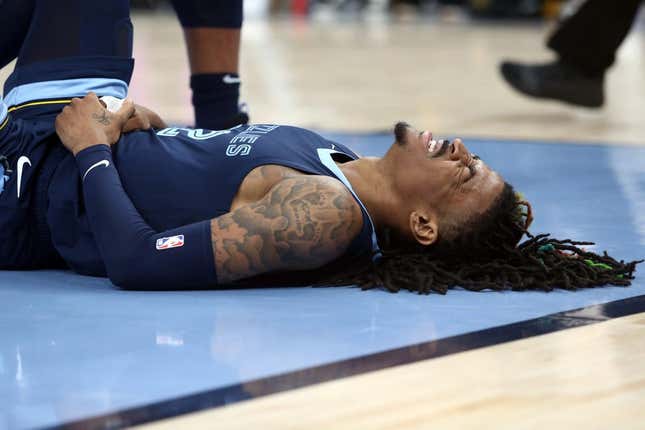 Memphis Grizzlies guard Ja Morant missed the majority of practice Tuesday and is a game-time decision for Game 2 of the Western Conference quarterfinals series with the visiting Los Angeles Lakers on Wednesday
'Soccer fandom is full of gatekeepers' says Ted Lasso actor Brendan Hunt
Head coach Taylor Jenkins said Memphis is relieved Morant has no broken bones, fractures or ligament tears in his injured right hand. Morant suffered a soft-tissue bruise, exacerbating an injury to his right hand contusion suffered in the final week of the regular season against the Milwaukee Bucks.
"He's going to be a game-time decision," Jenkins said of Morant, allowing that the All-Star is "in some pain" after attempting light dribbling and shooting as a test of pain tolerance.
ESPN reported Tuesday that despite the public comments, there wasn't "a great deal of optimism" Morant would play Wednesday.
Playing with a wrap on his right hand in Sunday's Game 1, Morant drove to the rim as Lakers forward Anthony Davis stepped in front of the restricted area to draw an offensive foul. Morant hit his hand on his way to the floor, shouted in pain and headed to the locker room.
Playing without Morant was not a welcome sight for Memphis in the first game of the series. He left for good with 5:48 left in regulation, which gave way to a 15-0 game-ending run for the Lakers to pull away 128-112.
On Tuesday, Morant was on the court briefly late in practice and trainers applied ice to his hand.
Morant was not seen using his right hand in the portions of practice open to the media. After the Game 1 loss to the Lakers, Morant said his pain level was "about a 10. I haven't been using it."
--Field Level Media