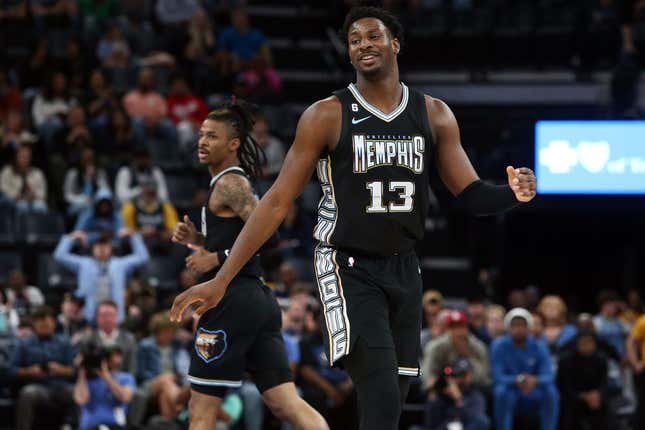 The Memphis Grizzlies can set aside any hopes of overtaking the first-place Denver Nuggets in the final days of the regular season
The biggest task for the Grizzlies is wrapping up the No. 2 seed in the Western Conference, and they can move closer to doing that when they host the Portland Trail Blazers on Tuesday night
Memphis (49-29) is two games ahead of the third-place Sacramento Kings with four games to play. The Grizzlies fell three games behind the Nuggets when they collapsed Sunday and lost 128-107 to the host Chicago Bulls
Memphis led by as many as 23 points but was steamrolled 75-39 in the second half when the Bulls picked up their level of play.
The Grizzlies were 13-of-25 from 3-point range and committed two turnovers in the dominant first half. In the second half, Memphis was 6-of-18 from long range and committed 16 turnovers
"Their activity was great," Grizzlies coach Taylor Jenkins said of the Bulls. "They picked up their physicality, we got careless. We made 16 turnovers in the second half so part of it was them playing real well defensively and us playing terrible offensively.
The setback was the second in three games for the Grizzlies after winning 10 of their previous 11
Grizzlies big man Jaren Jackson Jr. recorded 31 points and made a season-best five 3-pointers against Chicago. It was his third 30-point effort in his past eight games
Desmond Bane scored 21 points for his sixth straight 20-point output. Ja Morant contributed 17 points, 10 rebounds and 10 assists for his seventh triple-double of the campaign.
The contest with Portland is the final home game of the regular season for Memphis. The teams split two matchups earlier this season with the road team winning each time.
The Trail Blazers (33-45) are playing out the string during a disappointing season but did notch a solid 107-105 road victory over the Minnesota Timberwolves on Sunday
The win was impressive considering Portland continues to play without four starters -- including star Damian Lillard -- and has signed three players in less than a week just to have some reinforcements.
"Very proud of all of them, they all played well," Trail Blazers coach Chauncey Billups said afterward. "Every single person that got on that floor tonight, they gave it all they had and that's all I want from our guys, play as hard as you can, play unselfish and then be a good teammate and see what happens. You never know, like tonight.
One of the recent pickups, guard Skylar Mays, contributed 13 points and nine assists in his second game with the team.
Rookie Shaedon Sharpe continues to showcase himself as a big-time scorer with fellow guards Lillard (calf) and Anfernee Simons (foot) sidelined.
Sharpe scored 27 points to top 20 for the sixth time in the past seven games. He is averaging 24.7 points during the stretch.
Sharpe also had six rebounds and six assists in a solid all-around performance.
"I'm a basketball player who wants to come out and compete day in and day out," Sharpe said. "Just trying to get my teammates involved and really just have fun with the process. I think that's the biggest thing for me -- come out and compete, have fun, bump heads."
The other injured Portland starters are forward Jerami Grant (quadriceps) and center Jusuf Nurkic (knee). Also sidelined for the Trail Blazers are guard Keon Johnson (fractured finger) and forward Cam Reddish (back)
--Field Level Media