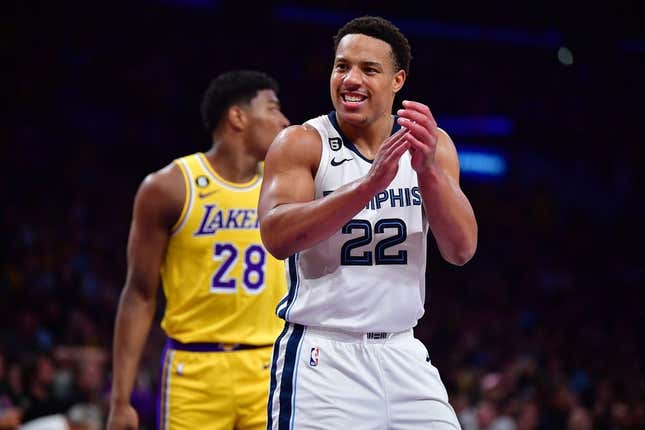 Memphis Grizzlies sharpshooter Desmond Bane guarantees that the first-round series with the Los Angeles Lakers will go to a Game 7
Air Jordans are more American than McDonald's French fries | Deon Cole's Ultimate Sports Fantasy
To make that happen, Bane and the Grizzlies have to figure out how to win in Los Angeles. Memphis is 0-4 against the Lakers in Southern California this season entering Friday's Game 6
Two of the losses came in Games 3 and 4 of this Western Conference series. The Grizzlies also fell in both regular-season visits
But Memphis remained alive with a 116-99 home victory over the Lakers on Wednesday to pull within 3-2 in the best-of-seven series
By staving off elimination, optimism returned to the Grizzlies and Bane is leading the way with his pledge
"We got to come with the right edge and the right road mentality, but I said it out there and I'll say it again," Bane said. "We're going to be back (in Memphis) for a Game 7 in front of the best fans in the NBA."
Bane did his part to keep Memphis alive with 33 points, 10 rebounds and five assists in Game 5. Backcourt partner Ja Morant added 31 points, 10 rebounds and seven assists in a game the Grizzlies took control of with a 26-2 burst, including 19-2 to end the third quarter
"They were great," Lakers star LeBron James said of Bane and Morant. "We've got to do a better job of not letting them see as many cracks and as many seams as possible.
James' play wasn't so great. He had his worst game of the series with 15 points on 5-of-17 shooting and missed all five of his attempts in a scoreless fourth quarter.
He was one of many Lakers who looked tired while the Grizzlies were running circles around them during the game-changing run that turned a one-point game into a 25-point margin
James is an abysmal 3-for-28 from 3-point range over the past four games and is 6-for-36 in the series.
"Just got to be better," James said. "It starts with me. (Wednesday night), I was not very good at all. My defense was pretty good. Offensively, I was not really good. So, we all got to do a better job helping one another."
The shaky outing came two nights after James posted the first 20-20 game of his career with 22 points and 20 rebounds in a 117-111 overtime victory in Game 4. James forced overtime with a basket with 0.8 seconds remaining.
Anthony Davis, who had 31 points and 19 rebounds in Game 5, was in James' position following Game 2 when he had only 13 points on 4-of-14 shooting during a 103-93 setback.
"LeBron will play better," Davis said. "After Game 2 when I played like crap, I had my head down and he was telling me to keep my head up. And I kind of just relayed that same message to him. 'You have the most points scored ever, you're the best basketball player to ever touch the court.' He'll be fine."
Memphis would like to get a contribution from forward Dillon Brooks in Game 6. The agitator had just eight points on 3-of-15 shooting in Game 5 and is shooting 30.3 percent in the series, including 8 of 37 (21.6) from behind the arc.
Brooks was on the bench during the Grizzlies' gamebreaking burst as Grizzlies coach Taylor Jenkins replaced him with Luke Kennard, who later departed with a left shoulder injury
"It was a win-or-go-home situation," Jenkins said. "I just wanted to try different things. D.B. came back in the fourth quarter. Just having Luke out there with Des and those two guys on the floor together has been really good for us, and obviously if Luke doesn't get that stinger, who knows what would have happened in the fourth quarter?"
Brooks, who was ejected in Game 3 for poking James in the groin, could hear the groans from the hometown fans when he shot the ball.
"It's been challenging," Brooks said. "I'm used to a certain standard from myself, but I just stay with it and one of these games I'm going to break out for three or four 3s and change the game."
--Field Level Media