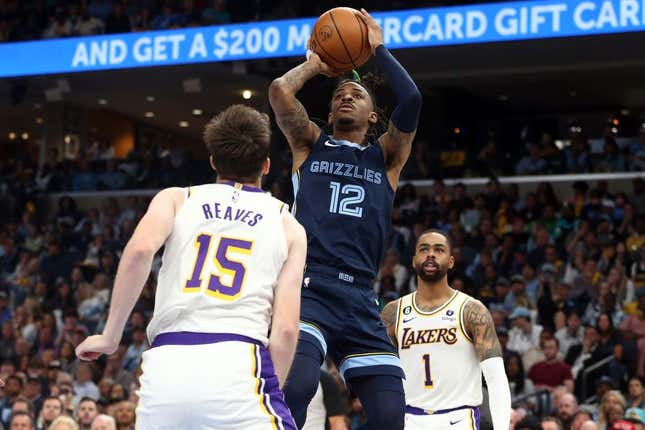 The Memphis Grizzlies won't know until close to tipoff whether or not star point guard Ja Morant can play when they host the Los Angeles Lakers on Wednesday night in a pivotal Game 2 of their Western Conference first-round playoff series
Bass' ERA stinks, but not compared to who he is off the mound | Worst of the Week Countdown
Morant reinjured his right hand during Sunday's 128-112 setback to the Lakers and was in a great deal of pain afterward. Grizzlies coach Taylor Jenkins said Tuesday that Morant is a game-time decision but the club listed the All-Star point guard as questionable hours later
Jenkins said X-rays displayed there were no fractures or ligament tears in Morant's right hand.
"He's dealing with some pains and soreness. Symptoms are slightly improving from the other night," Jenkins said after Tuesday's practice. "He's going to come in and get working in the morning and test it out. See how he's feeling."
Morant departed with 5:48 left in the fourth quarter on Sunday shortly before the Grizzlies fell apart. The Lakers concluded the game with a decisive 15-0 run to take the upper hand in the best-of-seven series
Lakers coach Darvin Ham said Tuesday that the uncertainty of Morant's status won't hinder his club's preparations
"I mean, we just prepare as if he's playing," Ham said. "We don't try to assume anything or try to make any predictions. We just make sure we cover Plan A, Plan B. Plan A, he plays. Plan B, what type of adjustments they'll make."
The biggest adjustment for Memphis is that Tyus Jones would move into the starting lineup. Jones had a stellar nine-game run in March when Morant missed eight games due to a suspension and sat out a ninth because of conditioning reasons.
Memphis went 6-3 during the stretch and Jones averaged 16.3 points, 8.2 assists and just 1.3 turnovers. He had 10 or more assists on five occasions and produced the first triple-double of his career.
"Tyus has been phenomenal when he's had to step into the starting role," Jenkins said. "He'll be prepared if Ja ends up being out for (Wednesday). We've been down this road before."
The seventh-seeded Lakers are aiming to open up a commanding 2-0 lead in the best-of-seven series with Games 3 and 4 to follow in Los Angeles
It's not a situation the second-seeded Grizzlies were anticipating, but it can be avoided by evening the series on Wednesday
"It's the first to four games for a reason," Memphis guard Desmond Bane said. "You want to win every game, but most of the time that doesn't happen. We obviously wanted to start it off with a win, but whey won, and we get another opportunity on Wednesday."
Four Lakers scored 20 or more points in the opener with the most surprising output coming from Rui Hachimura, who had 29 points on 11-of-14 shooting
"The way they guard me, they're going to be in the paint, so I got to be ready to shoot those kinds of shots," Hachimura said of his performance.
Bane admitted the Grizzlies wanted Hachimura to take a lot of shots
"That was our game plan going in -- make him hit shots -- and he did," Bane said. "Tip your cap. It's probably the best game he's had in his career. It's a seven-game series. Let's see if he can do it again Wednesday."
Austin Reaves also made a big contribution for the Lakers with 23 points. Anthony Davis added 22 points, 12 rebounds and seven blocked shots and LeBron James had 21 points and 11 rebounds
Reaves was dynamic in the fourth quarter with 14 points on 5-of-5 shooting. He scored nine straight Los Angeles points late in the period.
"You dream about being on a stage like this," Reaves said. "I got hot late."
James and Davis are still dealing with right foot injuries. Both are listed as probable.
Jaren Jackson Jr., who was named NBA Defensive of the Player on Monday, poured in 31 points in Game 1 for the Grizzlies. Bane added 22
--Field Level Media