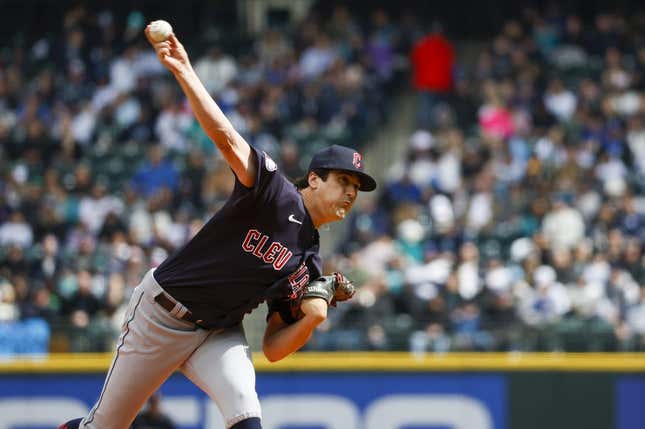 The Seattle Mariners look to win their first series of the season when they face the host Cleveland Guardians on Saturday
Bass' ERA stinks, but not compared to who he is off the mound | Worst of the Week Countdown
The Mariners, who opened the season by dropping three of four games to the visiting Guardians before losing two of three against the visiting Los Angeles Angels, ruined Cleveland's home opener with a 5-3 win on Friday
Julio Rodriguez, the American League's reigning Rookie of the Year, hit a two-run homer in the sixth inning that broke a 3-3 tie.
Rodriguez went 2-for-5 while J.P. Crawford finished 2-for-4 with two runs and two RBIs for the Mariners
"I don't think any expectations are unrealistic on Julio," Seattle manager Scott Servais said of Rodriguez, who has 30 home runs in 140 career games. "He's a unique player. He likes to play. Yeah, he may have a bad at-bat here and there, but he squares it up with that kind of power and the wind's blowing, he can hit it out of the ballpark."
While Seattle starter Logan Gilbert wasn't sharp, allowing three runs on six hits with six strikeouts and two walks in just four innings, the Mariners' bullpen was terrific for the final five innings
Penn Murfee, Trevor Gott, Matt Brash, Andres Munoz and Paul Sewald allowed a combined one hit the rest of the way to go along with seven strikeouts and one walk. Murfee (1-1) picked up the win by pitching a scoreless fifth, while Sewald tossed a perfect ninth inning for his first save of the season.
"They filled up the zone, threw a lot of strikes and I felt like we were working behind a lot of the time," Guardians outfielder Steven Kwan said of the Seattle bullpen's performance. "That's always gonna be tough when you're behind.
Down 3-2, Seattle took the lead for good in the sixth.
After Kolten Wong struck out and Jarred Kelenic doubled to center and took third on a wild pitch, Cooper Hummel struck out. But Crawford followed with a double to center that scored Kelenic, causing Cleveland to replace starter Aaron Civale (1-1) with Nick Sandlin.
Seven pitches later, Rodriguez blasted a two-run shot over the left-center-field fence for a 5-3 lead.
On Saturday, Seattle will turn to left-hander Marco Gonzales (0-0, 7.20 ERA), who struggled in his first start of the year, which came against the Guardians. Gonzales gave up four runs on six hits with a strikeout and two walks, but he didn't figure into the decision of the Mariners' 6-5 loss in 10 innings on Sunday
Gonzalez is 2-0 with a 3.32 ERA with 11 strikeouts and four walks in four career appearances (three starts) against Cleveland spanning 19 innings.
The Guardians will give the ball to right-hander Cal Quantrill (0-0, 7.71 ERA), who gave up five runs (four earned) on eight hits with three strikeouts and two walks in 4 2/3 innings when he opposed Gonzales on Sunday
Quantrill has faced the Mariners three times in his career and has struggled mightily in his two starts vs. Seattle. In those two outings, he allowed eight runs (six earned) on 13 hits, including two home runs, with six strikeouts and three walks in just 7 2/3 innings
--Field Level Media