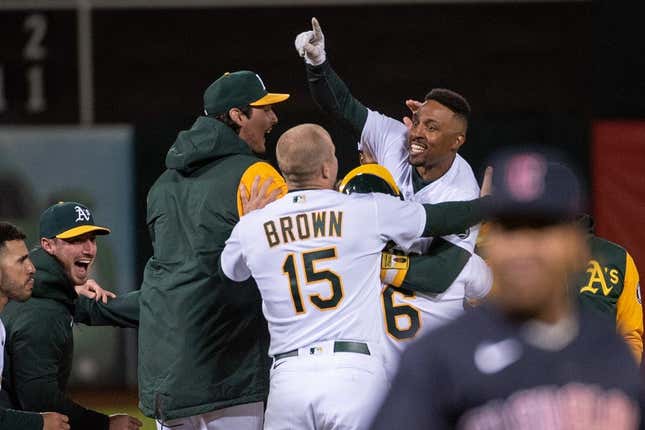 Two teams that have battled to the final pitch on consecutive nights will look for a much easier win when the Cleveland Guardians and host Oakland Athletics close a three-game series on Wednesday afternoon
Chris Paul should ride the bench next season | Keep it a Buck(et)
One day after he stranded the potential tying run for the final out of a 12-11, 10-inning loss, Oakland's Tony Kemp came through with a walk-off single in the last of the ninth Tuesday for a 4-3 win to tie the series.
While runner Ryan Noda made it home rather easily from second base to end the game, Guardians manager Terry Francona envisioned a second straight extra-inning affair when right fielder Oscar Gonzalez came up with Kemp's hit cleanly
"He probably tried to throw it too much," Francona explained of the off-target attempt at the plate. "I understand why. The game was on the line. Sometimes you just have to trust your stuff."
Interestingly, the win Tuesday went to Trevor May, who at 2-1 has recorded both of Oakland's wins this season. And the loss went to James Karinchak, who has been the pitcher of record in both of Cleveland's defeats.
One of the Guardians' four wins came in a game started by right-hander Hunter Gaddis (0-0, 9.82), who can only hope his fourth career big-league start is better than his first three starts when he gets the ball for the visitors in the series finale
The 24-year-old was on the hill for Cleveland's 9-4 win at Seattle last Friday but didn't stick around long enough to get the win. The Mariners roughed him up for four runs on five hits in 3 2/3 innings.
Gaddis' first two major-league appearances came late last season, when he gave up 15 runs in 7 1/3 innings in a pair of losses to the Houston Astros and Chicago White Sox.
He has never faced the A's, but his scouting report probably screams: Be careful with Kemp.
The sparkplug second baseman also singled and scored a run on Tuesday. He has five hits and has drawn three walks in Oakland's first five games.
The Guardians have a similar table-setter -- and often table-clearer -- in Steven Kwan, whose two hits Tuesday gave him eight for the season. He's also walked once and driven in seven runs
Kwan will have to deal in the series finale with left-hander Kyle Muller (0-0, 1.80 ERA), who pitched brilliantly as Oakland's Opening Day starter against Los Angeles Angels ace Shohei Ohtani last Thursday. Muller allowed just one run and four hits over five innings in a 2-1 win but did not get a decision.
Muller, an offseason acquisition from the Atlanta Braves, will face just his fourth American League opponent. In three big-league seasons, he has never gone head-to-head with the Guardians
If Muller has a potential issue Wednesday, it's in not being deflated after what he labeled "the best day I've ever had on a baseball field," in his A's debut against Ohtani and Mike Trout.
"It was awesome. That's what you dream about," he said. "You get to face the No. 1 and No. 2 players in the world, back-to-back, in the first inning. You can't write it up any better than that.
"I have a huge amount of respect for everything they've done. To be on the same field and competing against them is where I want to be. It's super cool that happened Day 1 of the season."
--Field Level Media