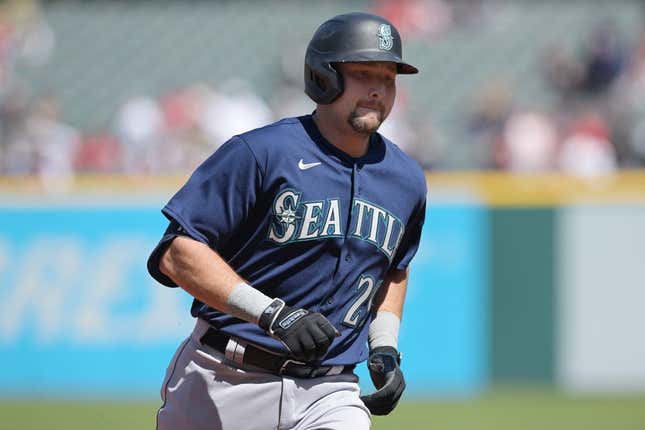 Jose Ramirez scored the winning run on Josh Bell's slow roller to second base with one out in the bottom of the 12th inning as the Cleveland Guardians rallied to defeat the visiting Seattle Mariners 7-6 on Sunday to avoid being swept in the three-game series
Bass' ERA stinks, but not compared to who he is off the mound | Worst of the Week Countdown
Cleveland's Will Brennan hit a two-run double with two outs in the bottom of the ninth to tie the score at 3-3 and force extra innings. Brennan added a game-tying RBI single in the 11th as the Guardians again rallied from a two-run deficit
Teoscar Hernandez singled home Julio Rodriguez in the top of the 12th to give Seattle a 6-5 lead.
With automatic runner Amed Rosario starting the bottom of the 12th at second, Mariners right-hander Penn Murfee (1-2) intentionally walked Ramirez
Murfee then tried to pick off Rosario, but his throw sailed into center field, allowing both runners to advance. Josh Naylor grounded out to first to score the tying run and, following an intentional walk to Andres Gimenez to put runners at the corners, Bell hit a grounder to second baseman Kolten Wong, whose throw to the plate was slightly late, allowing Ramirez to score.
Guardians lefty Tim Herrin (1-0) got the final out in the top of the 12th to earn the victory
After a scoreless 10th, both teams scored twice in the 11th.
Jarred Kelenic's double to the gap in right center off Enyel De Los Santos scored automatic runner Cal Raleigh, who hit a two-run homer in the first inning. Kelenic took third on a wild pitch and scored on Wong's sacrifice fly to center field to give the Mariners a two-run cushion
Gimenez led off the bottom of the inning with a double down the left field line off J.B. Bukauskas to score automatic runner Naylor. Gimenez took third on a groundout and scored the tying run on Brennans's single to right.
The Mariners' Matt Brash, seeking his first career save, walked Naylor with one out in the ninth. Gimenez lined a single to center and, after Bell struck out, Brennan hit a 2-0 pitch deep to right. Hernandez tried to make a leaping catch at the wall, but the ball glanced off the end of his glove and both runners scored to make it 3-3
Guardians starter Zach Plesac allowed two runs on five hits through seven innings, while George Kirby surrendered a run on five hits through six innings for Seattle
--Field Level Media