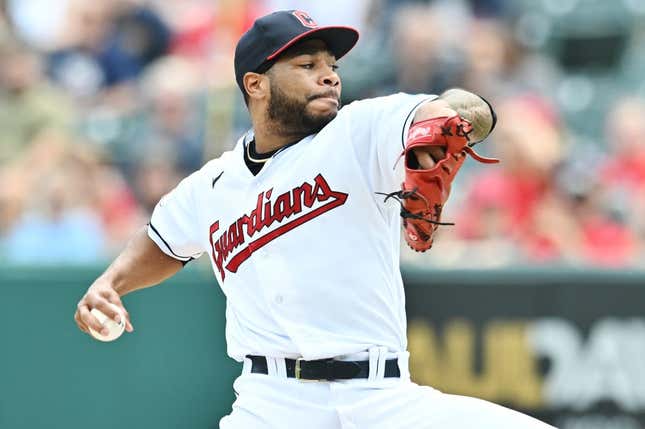 The Minnesota Twins hold a six-game lead in the American League Central with 31 games remaining. Whether Rocco Baldelli's squad can hold on to win their first division title since 2020 could be determined over the next 10 days.
Is Texas or Florida State a bigger national title contender? | Agree to Disagree
The Twins and second-place Cleveland Guardians will meet six times during that span, including a three-game series that kicks off Monday night in Minneapolis.
Right-hander Kenta Maeda (3-7, 4.22 ERA), who is 3-1 with a 2.51 ERA in five career starts against the Guardians, will start the opener for Minnesota, with the All-Star one-two punch of right-handers Pablo Lopez (9-6, 3.69) and Sonny Gray (7-6, 3.06) on deck for the final two games.
Cleveland will answer Monday with rookie right-hander Xzavion Curry (3-2, 3.51), who will make just his eighth major league start. The Guardians' remaining starters in the series will be more rookie right-handers in Gavin Williams (1-5, 3.52) and Tanner Bibee (10-3, 3.01).
Curry allowed one hit and no runs in one inning in his only career appearance against the Twins on May 5.
The Guardians, the reigning Central champs, and Twins tuned up for their showdown series by grinding out tough extra-inning victories on Sunday.
Cleveland won the rubber game of its three-game series at Toronto, 10-7, in 11 innings. Kole Calhoun, obtained for cash from the Dodgers on Aug. 4, led the way, going 3-for-5 with two doubles, including a two-run double to jump-start a four-run 11th inning. Outfielder Ramon Laureano, claimed on waivers from Oakland on Aug. 7, went 3-for-4 with a double and a two-run homer in the 11th.
"It was a huge game and, hopefully, we can use that momentum as we roll into the biggest series of the year for us right now," said Calhoun, who also made a sparkling defensive play at first base.
"Huge win," added second baseman Andres Gimenez, whose two-run double in the eighth inning gave Cleveland a 6-5 lead. "We have a big series coming up against Minnesota. Those three games are going to be important for us, so winning today was huge."
The Twins and Guardians also will play three more times from Sept. 4-6 in Cleveland in a series that could be an even bigger, depending on how things turn out at Target Field.
Minnesota enters this series after winning three of four games at home against the Texas Rangers, including a 7-6 victory in 13 innings on Sunday.
The Twins rallied from an early 5-0 deficit behind a grand slam by Royce Lewis and a bullpen that allowed just one unearned run over the final nine innings to secure their 10th walk-off win of the season. Michael A. Taylor walked on four straight Jonathan Hernandez pitches with the bases loaded to win it.
The walk-off walk drove in designated runner Carlos Correa.
"Just looking for a good pitch to hit right there," Taylor said. "I know he walked Joey (Gallo) and Wally (Matt Wallner) and the visuals were pretty tough. So I went up there to see a pitch and get an idea what he had and from there became even more selective."
Lewis and Ryan Jeffers had both struck out in the tough twilight conditions before Hernandez walked the next three batters in a row. Ball 4 to Taylor landed in the dirt in the opposing batter's box.
"Big-time, big-time, big-time effort from our team," Baldelli said. "You can single some names out if you want to, but that's a team victory. ... I had chills after the game. I was so impressed with our group."
—Field Level Media