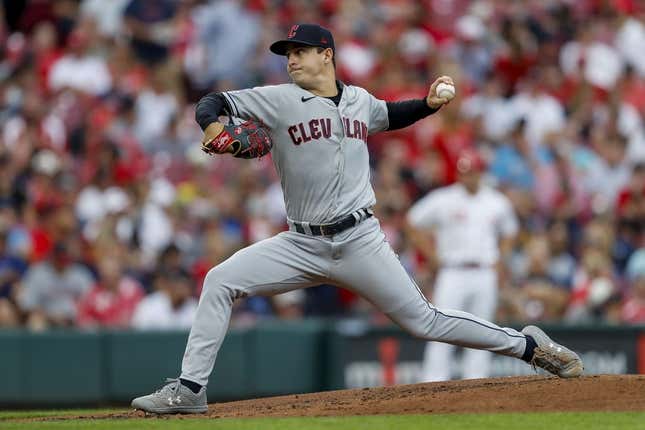 Logan Allen will try to extend his shutout streak and help the host Cleveland Guardians earn a split of their four-game series with the Detroit Tigers when he takes the mound on Sunday.
Is Texas or Florida State a bigger national title contender? | Agree to Disagree
Allen (6-5, 3.33 ERA) has not allowed a run in his past 10 innings. He most recently threw six shutout innings in a 3-0 win at the Cincinnati Reds on Tuesday.
Before that performance, the 24-year-old rookie left-hander gave up a solo home run in the first inning to George Springer of the Toronto Blue Jays on Aug. 9 but blanked them over the next four innings. The Guardians lost 1-0, however.
"His poise on the mound is kind of unmatched," Cleveland outfielder Will Brennan said. "He pitches like a veteran out there, and he doesn't really let things faze him. That's kind of how he is in life, too. It's pretty cool."
Allen appeared to come of age in his last start, allowing just four singles with seven strikeouts and three walks against a Cincinnati team fighting for the National League Central lead.
"He came in today with five different pitches, was able to change speeds, threw strikes," Reds manager David Bell said of Allen. "He went right after our hitters. It made for tough at-bats all night."
Allen is 2-1 in three starts this month, with a 1.59 ERA. He has not faced Detroit in his career.
The Tigers will try to win the series behind left-hander Eduardo Rodriguez (8-6, 3.13), who threw seven shutout innings in a 6-0 win against the Minnesota Twins on Aug. 8. He wasn't nearly as effective in his most recent outing last Sunday at the Boston Red Sox.
In his first return to Fenway Park since leaving the Red Sox to sign a five-year, $77 million free-agent deal with the Tigers in November 2021, Rodriguez surrendered season highs of six runs and 10 hits over five innings in a 6-3 loss.
Four of those runs were the result of the long ball — a solo shot by Justin Turner in the third and a three-run blast by Adam Duvall in the fifth, which stretched the lead to 6-2.
"The first thing I look at is the struggles with two outs," Detroit manager A.J. Hinch said. "He could get into innings and then struggle at the end. I know the big blows are hard to overcome, whether it's Turner's solo or Duvall's three-run homer. They delivered the biggest punch, but Eduardo hung in there and tried to keep us in the game."
Rodriguez is 4-0 in six career starts against Cleveland, with a 2.59 ERA.
A good sign for the Tigers in their 4-3 win on Saturday night was a seventh-inning solo home run by shortstop Javier Baez, which held up as the game-winner.
Baez, who hit 17 home runs in his first year with the Tigers last season, had not homered in his previous 20 games.
"It was nice that he could get a pitch to hit it and drive it," Hinch said.
—Field Level Media