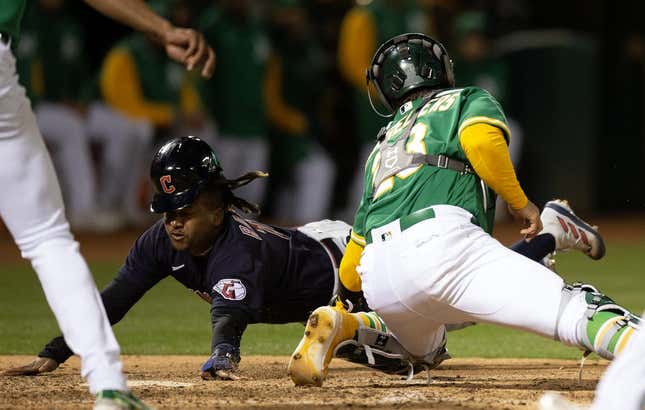 The Cleveland Guardians hope a strong pitching performance from ace right-hander Shane Bieber will keep them from another extra-innings scenario when they continue a three-game road series against the Oakland Athletics on Tuesday night
Bass' ERA stinks, but not compared to who he is off the mound | Worst of the Week Countdown
The Guardians had to go extras on the West Coast for a second consecutive time on Monday night, but it worked out fine again when Jose Ramirez produced an RBI single in a two-run 10th inning that lifted them to a 12-11 win
Cleveland had outlasted the Seattle Mariners 6-5 in 10 innings in the Northwest series finale 24 hours earlier.
The Guardians have won four in a row, having scored 29 runs since not giving Bieber (0-0, 0.00) any during his start on Opening Day vs. the Mariners
The right-hander had nothing to show except a spotless ERA after throwing six shutout innings Thursday. He struck out three and didn't allow a walk in his 87-pitch outing, allowing six hits.
Cleveland lost the game 3-0.
It's been nothing but positives since then for the Guardians, who got clutch hits from Ramirez not just in the game-winning 10th but also in a three-run rally in the eighth inning
Ramirez is now 7-for-22 (.318) for the season.
"I'm always looking forward to (watching him play)," Guardians manager Terry Francona said. "He's so good that I've seen him get fast starts, slow starts, but when it's over, he's in the top five. That's pretty impressive. And just what he does for not just our team but our organization. I mean, he does a lot. We're fortunate and we know that.
The same could be said of Bieber, a California native who has faced the A's just twice in his career, going 0-1 with a 3.46 ERA.
Like his performance last week in Seattle, he pitched well enough to win in his lone previous outing in Oakland but got a no-decision in a 3-1 win last April, pulled from a 1-1 tie after limiting the A's to one run on seven hits in seven innings.
He will face an A's team that struggled to score against the Los Angeles Angels but had no such issues in putting up 11 runs against the Guardians on Monday
Jace Peterson, Ramon Laureano and Seth Brown homered for the A's, who had just one homer (by Laureano) to show for the Los Angeles series, when they lost two of three.
Seeing the three homers and 11 runs go to waste bothered Oakland manager Mark Kotsay after Monday's third consecutive defeat.
"The frustration level was at a 10," he said. "This ballclub needs to play good defense. We gave them five runs. We know what happened. We'll focus on fundamentals."
Left-hander JP Sears will make his season debut as Oakland's No. 5 starter. The 27-year-old was acquired by the A's at the trade deadline last season after having gone 3-0 for the Yankees. He finished 6-3 with a 3.86 ERA.
A rookie last season, Sears pitched once against the Guardians, allowing one run and three hits in relief in a 2-0 loss at Cleveland in July in his fifth major-league appearance
--Field Level Media