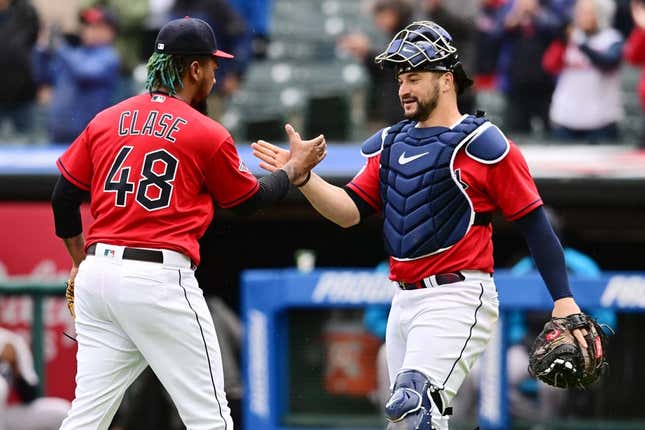 The Cleveland Guardians offense has struggled to find a rhythm in the season's first three weeks, but manager Terry Francona isn't pressing the panic button
Aaron Rodgers should go full Joe Namath | Comedian Bert Kreischer
After showing signs of progress on Sunday, the Guardians begin a three-game series against the visiting Colorado Rockies on Monday
Cleveland lost two of three to the Miami Marlins over the weekend, but there were several positive signs in the team's 7-4 victory in Sunday's finale. Amed Rosario went 4-for-5 and scored three runs, while Jose Ramirez and Josh Bell each homered.
Francona said it's only a matter of time before slumping hitters such as Josh Naylor return to form. Naylor broke out of a 4-for-45 skid with a pair of hits on Sunday.
"He's fearless at whatever he does," Francona said. "I told him, I think it's mental. 'I think you sometimes get yourself out.' He either tries to do too much, or sometimes he gets a little long and he wants to hit it far."
The Guardians are facing a Colorado team that has lost 11 of its last 12 games. The Rockies' 6-17 record is tied with the 2005 club for the worst record after 23 games in franchise history
The Rockies lost three of four to the Philadelphia Phillies over the weekend and allowed eight home runs in the final three games of the series
Colorado outfielder Kris Bryant missed Sunday's 9-3 loss and is listed as day-to-day with pain in his sacroiliac joint and glute. The Rockies struck out 15 times in Sunday's series finale
"We're fighting hard," Colorado manager Bud Black said. "We had some opportunities for a bigger hit to stretch our lead or to get more runs and it didn't happen. We had an opportunity to keep the game close, late. The takeaway is, we've got to make better pitches and we've got to have better at-bats."
Colorado will turn to left-hander Austin Gomber (0-4, 12.12 ERA) in the series opener. After posting a quality start in his season debut, he has allowed 19 earned runs on 22 hits in 10 1/3 innings over his last three outings.
Gomber, 29, gave up nine runs over two innings in a 14-3 loss to the Pittsburgh Pirates last Wednesday. He's hoping to bring a more focused approach to Monday's start.
"I feel like at some points right now, I'm just out there throwing with a lot of stuff going on," Gomber said. "So if I can get back to worrying about pitching, then I'll be fine. That's the easy part, getting into the game and pitching. It's keeping everything else out."
Gomber has made one start and three relief appearances in his career versus Cleveland, going 0-1 with a 6.75 ERA.
The Guardians will counter with right-hander Cal Quantrill (1-1, 4.15), who pitched six shutout innings against the Detroit Tigers last Wednesday before leaving after a line drive hit him on the leg
"He's fine -- he was more upset that I took him out of the game than he was about getting hit," Francona said. "He was over 80 pitches and I wasn't going to take any chances, but he would have gone back out there."
Quantrill, 28, went 23-8 with a 3.16 ERA in the last two seasons. He struck out four with one walk in last Wednesday's outing against Detroit.
--Field Level Media