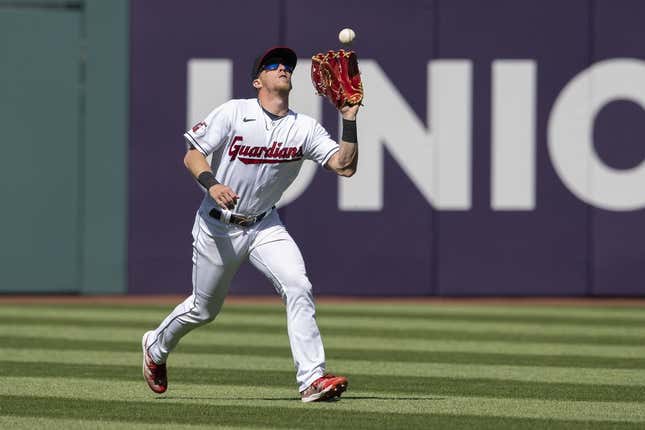 The Cleveland Guardians and Washington Nationals share a few things in common early in the season
Chris Paul should ride the bench next season | Keep it a Buck(et)
A day off prior to Friday night's meeting in Washington might be a positive, as both clubs are trying to steady themselves after some difficult results.
"We're playing with a lot of energy," Nationals manager Davey Martinez said. "We all need a day off. We'll come back Friday.
Both teams have had West Coast trips this month. The Guardians come to Washington 5-2 in road games
The Nationals returned from the West Coast after losing their last two games to the Los Angeles Angels to complete a 3-4 road swing
"We were in every game," Martinez said. "We swung the bats fairly well. Now we just have to hone in on driving in those runs from third base with less than two outs."
The glitches for the Nationals tend to be centered on offensive execution
Their 48 runs this season rank second-to-last in the National League.
"We just couldn't score runs," Martinez said. "They know that they're playing hard. One hit here, one hit there, these games we win. We just have to keep fighting."
The Guardians lost 4-3 on Wednesday afternoon to the New York Yankees, falling for the second game in a row and the fourth time in their last six games
Guardians manager Terry Francona said his team needs to settle in at several positions and become more consistent. Like Martinez, Francona has been complimentary of his team's energy level
Some of that has come from outfielder Myles Straw, even though his 10-game hitting streak ended Wednesday vs. the Yankees.
Right-hander Cal Quantrill (0-1, 6.52 ERA) goes to the mound for the Guardians. He faced the Seattle Mariners in both of his outings so far
In 115 career outings, Quantrill has never encountered the Nationals
The Guardians have won all four of their extra-inning games this season. Those also have been their most productive games in terms of offense. Otherwise, they have scored more than three runs only once
Guardians closer Emmanuel Clase has allowed at least one run in three of his six appearances
"His velocity is not showing 100, but sometimes there's more cut to it," Francona said. "I think he's still getting accustomed to what we're doing. He may not say that. He's a guy that normally walks around, so it has been a little bit of adjustment for him."
Washington will go with right-hander Trevor Williams (1-1, 4.35 ERA) as the starting pitcher.
He's 1-1 with a 0.90 ERA in two all-time matchups with Cleveland. He allowed one run in 10 innings, though he has surrendered 10 hits in those two games combined.
The day off Thursday should be positive for the Nationals' bullpen, after Washington got only 3 2/3 innings from starting pitcher MacKenzie Gore on Wednesday. He had reached the five-inning mark in his two previous starts
"MacKenzie just couldn't throw strikes consistently," Martinez said. "He threw some pitches that were pretty close. Just one of those days, his pitch count got way up so we had to get him out of there."
--Field Level Media