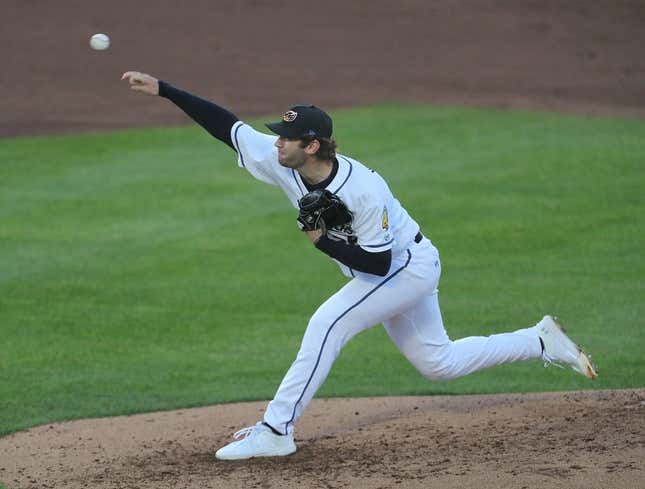 Cleveland Guardians manager Terry Francona said prized pitching prospect Gavin Williams was kept out of his sight during spring training
How running an NFL team is like running a restaurant | Chef Emeril Lagasse
Perhaps by design.
"I don't think they wanted me to (see him)," Francona said with a hearty laugh on Tuesday. "I think they were afraid I might want to bring him with us."
There will be no hiding Williams from Francona on Wednesday night because the 23-year-old right-hander will make his major league debut against the visiting Oakland Athletics
Williams is Cleveland's No. 1 prospect and is ranked No. 16 overall by MLB Pipeline. His top speed on the radar gun this season is 101.1 mph.
Williams was a first-round draft choice -- No. 23 overall from East Carolina -- in the 2021 draft and has quickly soared up the farm system.
This season, Williams was a combined 4-2 with a 2.39 ERA in 12 minor league starts between Double-A Akron and Triple-A Columbus. The 6-foot-6, 250-pounder struck out 81 in 60 1/3 innings.
Last season, Williams struck out 149 in 115 innings in 25 starts between High A Lake County and Akron.
"This start (Wednesday) -- again, I say it every time -- it won't define whether he's going to the Hall of Fame or going back to (the minors)," Francona said. "But I think we're excited to watch him and to watch him grow, because he will."
Williams didn't have a whole lot to say after arriving in the Guardians' clubhouse prior to Tuesday's 3-2, 10-inning win over the Athletics
"I have no words for it, really," Williams said. "I don't know how to describe it right now."
Williams will pitch against an Athletics' squad that has dropped six consecutive games and has just 19 wins on the season
Oakland let a 2-0 lead get away in Tuesday's opener of the three-game set despite a strong effort by second baseman Tony Kemp.
Kemp had two of his team's six hits and belted his second homer of the season. He also made a superb defensive play in the eighth inning.
Kemp went after Will Brennan's blooper in right-center field with his back to the plate. He then was twisting to his left as he fell to the ground and simultaneously caught the ball.
But the Athletics, who are mired in their seventh losing streak of at least five games, went back to the hotel unhappy after Andres Gimenez singled in the winning run for the Guardians in the bottom of the 10th
It was the third straight game that the Athletics lost by a 3-2 score. Four of their past five games have been one-run setbacks
"Another tough loss," Oakland manager Mark Kotsay said. "These one-run games, you try to dissect the game and look at what we could have done better, but some of it is pure luck."
There hasn't been much margin between victory or defeat this season when these two teams meet. The A's and Guardians have played four times, and three games have gone to extra innings. Cleveland won all three of those
Oakland's lone victory came courtesy of a run in the bottom of the ninth on April 4.
Right-hander Paul Blackburn (0-0, 3.48 ERA) will start Wednesday for the Athletics
Blackburn is making his fifth start of the season after missing the first two months due to fingernail and blister issues on his pitching hand.
Blackburn, 29, struck out a season-best nine batters in 5 2/3 innings against the Tampa Bay Rays on Thursday. He gave up three runs (two earned) and seven hits and walked one.
Blackburn is 1-1 with a 2.96 ERA in four career outings against Cleveland. Jose Ramirez is 4-for-10 with three doubles against him.
--Field Level Media