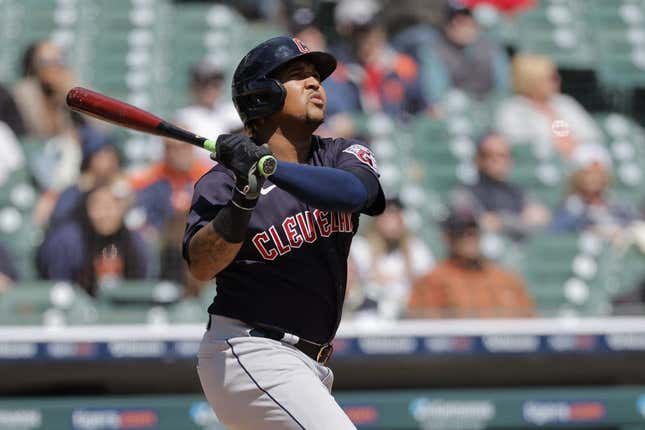 The Cleveland Guardians didn't exactly put their best foot forward during their first homestand of the season
Bass' ERA stinks, but not compared to who he is off the mound | Worst of the Week Countdown
After dropping two of three games in both series during that stretch, the Guardians bid for better results on Friday when they return to Cleveland to open another six-game homestand with a three-game series against the Miami Marlins
The Guardians snapped a season-high three-game losing skid with a 3-2 victory over the Detroit Tigers on Wednesday afternoon. Jose Ramirez answered being called out on a clock violation in the fourth inning by belting a three-run homer in the sixth
"For the next at-bat I was ready," Ramirez said through an interpreter, per The (Cleveland) Plain Dealer. "The only difference was that I was ready the whole time in the box, making sure that it wouldn't happen again."
Ramirez's second homer of the season boosted his team-leading RBI total to 12.
Speaking of homers, reliever James Karinchak served up his third one of the season and second in as many days on Wednesday while making just his 11th appearance in 2023. By comparison, Karinchak allowed just two homers in 38 games last season.
"I didn't think it was horrible," Cleveland manager Terry Francona said of Karinchak's offering to pinch-hitter Zach McKinstry on Wednesday. "Just right near his swing path. And I thought (Tuesday), I didn't think the pitch was that bad either.
"When you're playing these kind of games, whether it's a mistake or somebody's good piece of hitting, it becomes more glaring because we don't have much wiggle room."
The Guardians hope right-hander Zach Plesac (1-0, 6.92 ERA) will have some wiggle room on Friday to keep the Marlins at bay. He pitched well in his lone outing at home on April 9, allowing two runs on five hits in seven innings during a no-decision versus the Seattle Mariners
Plesac, 28, notched his first win of the season six days later despite permitting four runs (two earned) in five innings of a 6-4 victory over the Washington Nationals.
Plesac has yet to face Miami in his career.
The Marlins had won six of seven games before dropping a 5-2 decision in 11 innings to the San Francisco Giants on Wednesday afternoon
Garrett Cooper, who had an RBI single in the fifth inning, has hit safely in four straight games and 13 of 17 this season.
Unfortunately for the Marlins, they were unable to get the timely hit on Friday. They were 2-for-16 with runners in scoring position
"We had our chances and the right guys up at the right time," Miami manager Skip Schumaker said.
The Marlins will aim to rebound on Friday when they send left-hander Braxton Garrett (0-0, 3.38) to the mound
Garrett, 25, turned in his best performance in his last outing, yielding one run on four hits in 5 2/3 innings of a no-decision against the Arizona Diamondbacks on Saturday.
Like Plesac, Garrett will be facing his Friday foe for the first time in his career.
--Field Level Media