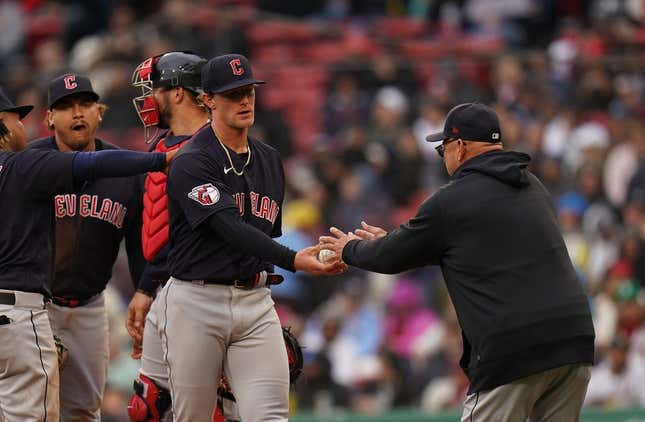 The Cleveland Guardians demoted struggling right-handed starter Zach Plesac to Triple-A Columbus and tabbed Peyton Battenfield as the team's starting pitcher on Friday night
'Soccer fandom is full of gatekeepers' says Ted Lasso actor Brendan Hunt
It marks the first time the 28-year-old Plesac has been optioned to the minors since the 2020 season.
The move also opens a roster spot for left-hander Sam Hentges, who is expected to be reinstated from the injured list.
Plesac's struggles have carried over from last season, when he went 3-12 with a 4.31 ERA in 24 starts. He's 1-1 with a 7.59 ERA in five starts so far this season.
Plesac is 26-27 overall in the 84 games (83 starts) for the Guardians. He made his debut on May 28, 2019, and went 8-6 with a 3.81 ERA that season
Battenfield, 25, is 0-2 with a 4.67 ERA in four games (three starts) this season, his first in the big leagues. He was selected in the ninth round of the 2019 draft by Houston. The Guardians acquired him in a July 2021 trade with Tampa Bay
Battenfield will pitch the opener of a series against the Minnesota Twins in Cleveland.
Hentges opened the season on the injured list and is 4-6 with a 4.61 ERA in 87 games (12 starts) with the Guardians
--Field Level Media