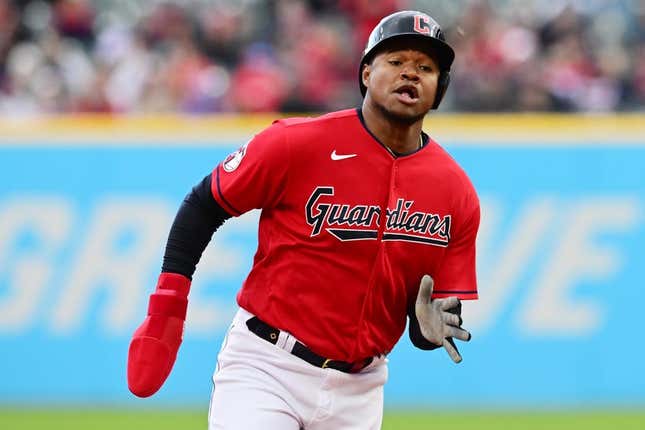 The Cleveland Guardians demoted struggling outfielder Oscar Gonzalez to Triple-A Columbus prior to Saturday's game against the Minnesota Twins
How running an NFL team is like running a restaurant | Chef Emeril Lagasse
Shortstop Tyler Freeman was recalled from Columbus in a corresponding move.
Gonzalez, 25, is batting just .192 with one homer and five RBIs in 25 games for Cleveland this season.
"April can be a pretty cruel month here," Guardians manager Terry Francona told reporters on Saturday. "It can be a tough month and he made it tougher by chasing so much. We tried to tell him last night, we're not asking him to walk. We just want you to swing at pitches you can handle because we think he'll do some damage.
Gonzalez batted .296 with 11 homers and 43 RBIs in 91 games for the Guardians as a rookie last season and proved to be a clutch hitter in the playoffs
He was 7-for-31 (.226) in seven postseason games but two of the hits were game-winners. Gonzalez belted a walk-off homer in the 15th inning to beat the Tampa Bay Rays 1-0 in the finale (Game 2) of the American League wild-card round and delivered a game-ending, two-run single in the ninth inning of Game 3 of the AL Division Series to beat the New York Yankees 6-5.
Rookie Gabriel Arias, batting .179 in 39 at-bats, is slated to get more playing time due to the move. Arias, 23, is scheduled to bat seventh and play right field in Saturday's game against the Twins.
Freeman, 23, was batting .329 with two homers, 17 RBIs and 10 of 10 on stolen-base attempts in 22 games with Columbus. He appeared in two games for Cleveland earlier this season and went 2-for-7 and also batted .247 in 24 games for the Guardians in 2022
--Field Level Media