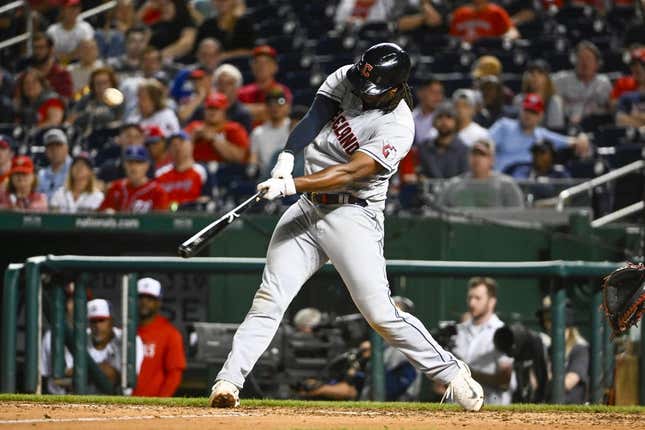 The Cleveland Guardians will aim for a three-game sweep when they face the host Washington Nationals on Sunday
'Soccer fandom is full of gatekeepers' says Ted Lasso actor Brendan Hunt
The Guardians took the first two games of the series against the Nationals by 4-3 and 6-4 scores
Washington manager Dave Martinez said he knows his team's struggles are a product of a youthful, rebuilding team trying to compete against some of MLB's best.
"We have one or two good innings and then we don't tack on runs after that," Martinez said. "And we're walking too many guys -- we can't give up free baserunners. We've gotta try to make them hit their way on.
"We're scoring some runs, but again we've got to keep grinding out at-bats and add some runs, too."
On Saturday, right-hander Zach Plesac (1-0) battled through five innings, allowing four runs (two unearned) to earn the victory, lowering his ERA to 6.92.
"I was happy with the way Zach battled," Cleveland manager Terry Francona said. "He gave us a chance to win, and with the way the game started, that's all you can ask for."
Cleveland center fielder Myles Straw went 3-for-4 to raise his average to .319 batting out of the No. 8 hole, which pleased his manager.
"Myles Straw, he gives us a lot of energy in the bottom of the lineup, and he can help us turn things over for us to the guys at the top," Francona said.
On Sunday, Shane Bieber, Cleveland's right-handed ace, will make his first career start against the Nationals, so not many of Washington's hitters have seen the 2020 AL Cy Young Award winner before
But Washington third baseman Jeimer Candelario, who signed a one-year, $5 million free-agent contract with the Nationals in the offseason, has a .138 average in 29 at-bats against Bieber during his time with the Detroit Tigers
The Nationals will send veteran left-hander Patrick Corbin -- whose 6.31 ERA was the highest among pitchers throwing at least 150 innings in 2022 -- to the mound against Cleveland. Corbin is 1-0 with a 5.23 ERA in two career starts against Cleveland
The Guardians' switch-hitting first baseman Josh Bell has a career .300 average against Corbin, with three homers and five RBIs. Cleveland's Amed Rosario is only hitting .107 against Corbin but with two home runs
Bell, who signed a two-year, $33 million contract with Cleveland in December, has started off slowly for the Guardians. But he told WJFK Radio that he loves hitting in Nationals Park because of its hitter's backdrop in center field
His start to this series seems like Bell may be breaking out of that early slump. His batting average is still just .167, but Bell homered and doubled on Friday in the series opener, and added a pair of doubles on Saturday.
"I was frustrated with my start," Bell said. "But I'm feeling it now, it's starting to come around. Just waiting for the hot weather to come around and maybe I can stay hot too."
The one constant for the Guardians has been the hitting and baserunning of third baseman Jose Ramirez, whose home run in the fifth inning into the second deck of the right-field bleachers ended up driving in the winning run in Cleveland's 6-4 victory
--Field Level Media