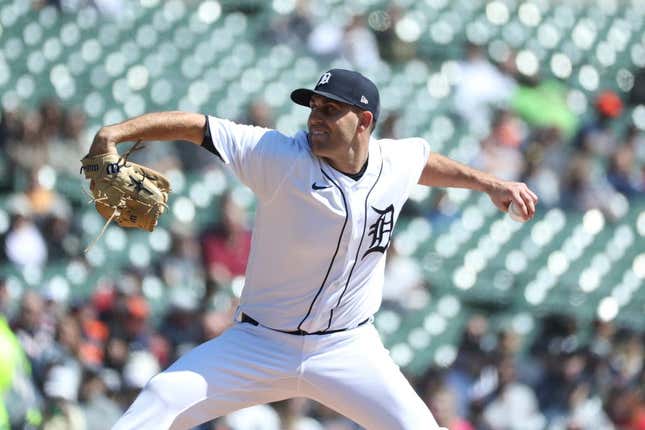 The Detroit Tigers spent a wasted afternoon at their ballpark Sunday. They'll hope to get back on the field on Monday when they host Cleveland
Following a five-hour weather delay, Detroit's game against San Francisco was postponed.
A warm spell produced summerlike conditions in Detroit over the weekend, but the rain rolled in Sunday afternoon. It will feel much more like winter
Monday, with temperatures expected to be in the 30s with possible snow showers.
The Tigers have been hot in recent days, collecting three straight victories, including a pair of walk-off wins against the Giants
Matthew Boyd (0-1, 4.00 ERA), who was scheduled to pitch Sunday, will open the series against the Guardians. Boyd gave up two runs in 4 2/3 innings to Boston in his last outing. Control has been a problem as he's walked seven batters in nine innings
"It could've been a lot better," he said after his outing against the Red Sox. "There was a lot of opportunity for me personally to get deeper in that game, to get ahead in counts. I had spurts where I lost the rhythm in my delivery and then I was rolling after that."
He's 4-7 with a 3.98 ERA in 16 career outings (14 starts) against Cleveland.
The Tigers are looking for center fielder Riley Greene to heat up soon. He hasn't produced a multi-hit game in his last eight games
"I am pretty consistent with these guys. Riley is a really good player and he's a really good player when he's 0-for-20 and he's a really good player when he's 10-for-20," manager A.J. Hinch said.
"I try to be consistent with them so they understand that the things I do with the lineup or their playing time don't revolve solely on how they did in today's game."
Hunter Gaddis (0-1, 8.53 ERA) is scheduled to start the series opener for the Guardians as he seeks his first career victory. He's made five starts over the past two seasons, including three this season
Gaddis deserved a win in his second start, holding the Oakland Athletics scoreless and allowing just one hit in six innings. In his last outing, Gaddis was pummeled for eight runs and eight hits in three-plus innings by the New York Yankees.
"I just didn't get the pitches where I wanted," Gaddis said. "They put up some good at-bats, hit the pitches that I made a little mistake on, so props to them. It's baseball. It's gonna happen. Everyone has to go through it. You just keep your focus and carry on."
Gaddis gained a rotation spot when Triston McKenzie was placed on the injured list due to a shoulder strain. Manager Terry Francona anticipated Gaddis would have some outings like he did Tuesday.
"We're trying to win and develop some of these guys at the same time," Francona said. "Sometimes it's a little harder than others. If you don't command, some of the veteran lineups can make you pay."
Gaddis will face Detroit for the first time.
Cleveland shortstop Amed Rosario missed the team's 7-6 loss to Washington on Sunday because of a back injury. It's uncertain whether he'll return for the Detroit series.
The Guardians took two of three from the Nationals over the weekend, thanks mainly to Josh Bell. He had six hits in the series, scoring twice and driving in three more runs
--Field Level Media