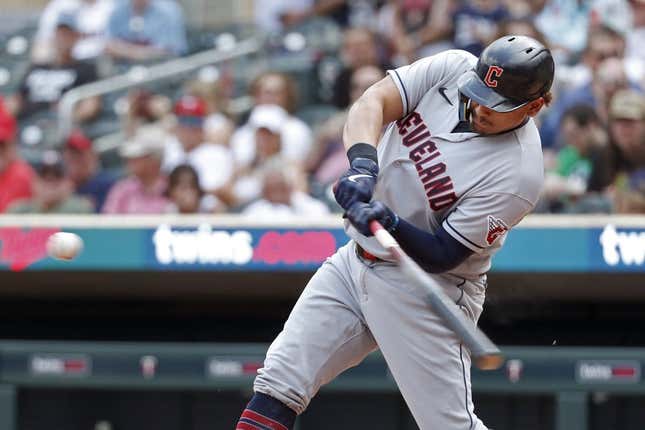 It will be something of a homecoming Tuesday night when the Cleveland Guardians open a three-game series against the host San Diego Padres
Is Texas or Florida State a bigger national title contender? | Agree to Disagree
Guardians position players Josh Naylor, Josh Bell and Gabriel Arias; relief pitchers Emmanuel Clase and Enyel De Los Santos; and injured starting pitcher Cal Quantrill all had ties to the Padres, along with left-handed starting pitching prospect Joey Cantillo
"It's sort of a club here, being in the Padres organization before," Naylor said during spring training
Naylor, Arias, Quantrill and Cantillo -- along with former Guardians major leaguers Austin Hedges and Owen Miller -- all came to Cleveland in the Aug. 31, 2020, trade that sent starting pitcher Mike Clevinger to the Padres
"That trade was a boost for a lot of us," said Naylor, who has been a regular in the Guardians lineup since and is hitting .282 this season with a .791 OPS, 12 doubles, eight homers and 48 RBIs
Bell hit .192 as a Padre with three homers and 14 RBIs late last season after coming to San Diego with Juan Soto. He is hitting .236 with 14 doubles, five homers and 30 RBIs in 59 games with Cleveland this season. His .707 OPS is 120 points higher than his mark with the Padres
Arias is hitting .212 with four homers in 113 at-bats.
Closer Clase (2.81 ERA, 20 saves) and De Los Santos (3.24 ERA in 27 appearances) each played in the Padres farm system. Quantrill, the Padres' first-round draft pick (eighth overall) in 2016, has a 25-12 record with a 3.47 ERA as a Guardian
Although the Guardians seemed to get the best of that 2020 trade, both teams have identical 31-34 records going into their three-game, interleague meeting
The series opens Tuesday night with a match of right-handers -- Tanner Bibee (2-1, 3.05 ERA) starting for the Guardians against Padres ace Joe Musgrove (3-2, 4.35)
The Padres return home after blowing two late leads on a rainy afternoon in Colorado -- preventing them from sweeping the Rockies on the road and winning four straight games for the first time this season
"We felt in great position to finish it out and it didn't happen," Padres manager Bob Melvin said. "It's frustrating after the way we were playing.
The Padres are 4-12 in one-run decisions and 13-18 at Petco Park
Musgrove does offer some good news. Over his last three starts, Musgrove has allowed three runs (two earned) on 13 hits and four walks with 17 strikeouts in 17 1/3 innings for a 1.04 ERA and a 0.98 WHIP.
"After the broken toe in spring training and a couple setbacks, Joe is being Joe," Melvin said.
Plus, if you disregard that start in the elevated air of Mexico City -- where he gave up seven runs in 3 1/3 innings -- Musgrove's ERA is 3.08. Musgrove is 2-1 lifetime against Cleveland with a 4.76 ERA and 16 strikeouts in 17 innings.
Like Musgrove, the rookie Bibee will be making his ninth start of the season. Of course, this is his first start against the Padres. The 24-year-old Bibee was Cleveland's fifth-round pick in the 2021 draft out of Cal State-Fullerton. He has limited opponents to a .230 batting average with 42 strikeouts against 12 walks in 44 1/3 innings
The Guardians have won 10 of their past 16 games, most recently a 5-0 win over the Houston Astros on Sunday to cap a 4-2 homestand
--Field Level Media