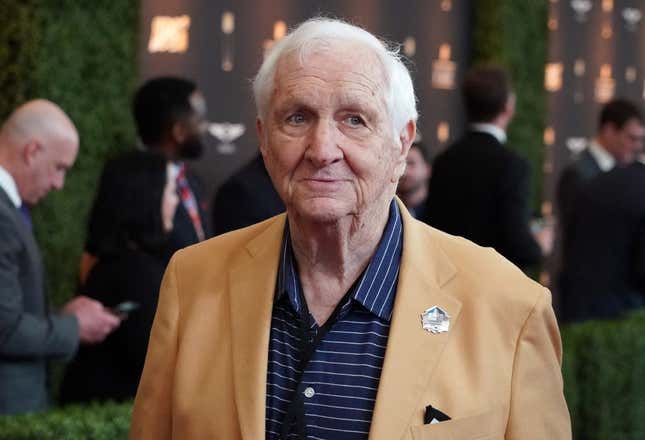 Pro Football Hall of Famer, NFL scouting innovator and former Dallas Cowboys vice president of player personnel Gil Brandt died Thursday. He was 91.
Is Texas or Florida State a bigger national title contender? | Agree to Disagree
Brandt joined the Cowboys for their inaugural season in 1960 and became one of the preeminent talent evaluators of his era while helping the club to a pair of Super Bowl titles in the 1970s. He spent 28 years with Dallas before being fired by new owner and general manager Jerry Jones in May 1989.
Under Brandt — as well as long-time head coach Tom Landry and general manager Tex Schramm — the Cowboys made five Super Bowl appearances.
Brandt was named to the Cowboys' Ring of Honor in 2018 and the Pro Football Hall of Fame in 2019, with Jones presenting him at his induction for the latter honor.
"We are so deeply saddened by the passing of Gil Brandt — a true icon and pioneer of our sport," Jones said. "Gil was at the very core of the early success of the Dallas Cowboys and continued to serve as a great ambassador for the organization for decades beyond that. His contributions cemented his spot in the Ring of Honor. He was my friend and a mentor not only to me, but to countless executives, coaches, players and broadcasters across the National Football League, which rightfully earned him a spot in the Pro Football Hall of Fame where his legacy will be celebrated forever.
"He was an innovator and set the standard for excellence in player acquisition. From the creation of the NFL Combine to revolutionizing the NFL Draft, Gil finished his over six-decade NFL career with an eye towards the future of the league and teaching fans about the sport he loved as a radio broadcaster. Gil was as good a storyteller as it gets, with a memory as sharp as a tack. His dedication to, and passion for, this game left a lasting impact on generations of Hall of Fame players and coaches. There are very few people that have been able to have the kind of generational impact that he did. Gil was as dedicated to growing this league and sport as anyone ever was, and we are all grateful and better for it. Our hearts go out to Gil's wife, Sara, his son Hunter and all of Gil's family and friends."
Brandt spent several years working with the NFL, including an active role at the Scouting Combine and in the pre-draft preparation process, and was a prominent fixture at the Indianapolis-based event for multiple decades after leaving his job with the Cowboys.
"You can't tell the story about the success of the Dallas Cowboys and their two-decade run of winning seasons from the mid-1960s to mid-1980s without mentioning Gil Brandt," said Jim Porter, president of the Pro Football Hall of Fame.
"His innovative approach to scouting and player evaluation helped the organization find players others overlooked. The result was discovering future Cowboys from smaller colleges, or even off college basketball or track teams. He is credited with advancing the use of computers in the front office of pro football teams, but the real computer was the one in his own head, where he stored an incredible amount of information that he loved to share with anyone who appreciated the game like he did."
—Field Level Media