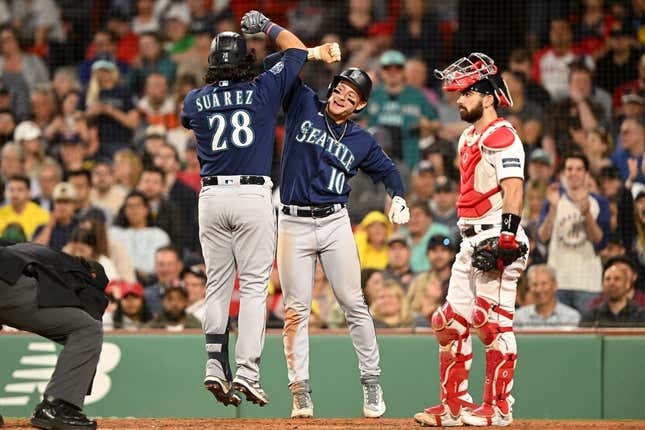 When Seattle's Jarred Kelenic hit home runs on three consecutive days at Chicago's Wrigley Field last month, his teammates came up with a postgame chant.
How running an NFL team is like running a restaurant | Chef Emeril Lagasse
"Hap-py Jar-red! Hap-py Jar-red!" they sang in unison.
There were a few more stanzas Monday night after Kelenic hit a 455-foot home run in the first inning, sparking Seattle to an 11-2 victory against the Oakland Athletics. The four-game series between the American League West rivals will continue Tuesday night in Seattle
"Happy Jarred, Happy Mariners," Seattle manager Scott Servais said. "Guys have little slogans, things that kind of catch fire, so to speak, throughout the course of the year
"It was Ty France who started it ... and now it becomes the postgame celebration. It's what brings teams together, and it's happening to a young player who is embracing it, which is really good."
Kelenic, 23, struggled through his first couple of seasons in the major leagues, batting just .168 through his first 500 at-bats, but he has broken out this year. After going 3-for-4 on Monday, he's batting .297 with a team-leading 10 homers and 25 RBIs and an on-base plus slugging percentage of .914.
Perhaps most impressive has been his performance against left-handed pitchers.
On Sunday, Kelenic homered off Atlanta's Jared Shuster. It was Seattle's only hit in six innings against the left-hander. A day later, Kelenic went deep off of Oakland's Kyle Muller in another left-vs.-left matchup.
In 43 at-bats against southpaws this season, Kelenic is batting .349 with four homers, 12 RBIs and a 1.099 OPS, making the planned platoon with AJ Pollock moot.
"He's probably been our best hitter against lefties," Servais said. "Who woulda thunk that coming into the season?"
The A's, who have lost five games in a row, welcomed back outfielder/first baseman Seth Brown, who had been out since suffering a Grade 2 left oblique strain April 8 on a check swing. Brown, who led the A's in home runs (25) and RBIs (73) last season, went 2-for-4 and drove in a run on Monday.
Oakland was blanked for six innings by Mariners ace Luis Castillo
"We had a chance there in the sixth with Jace (Peterson) up and the bases loaded to get back in the game," Oakland manager Mark Kotsay said. "He executed a good changeup and got the groundout."
On Tuesday, A's right-hander Luis Medina (0-2, 6.88 ERA) is scheduled to match up against Seattle lefty Marco Gonzales (3-1, 6.10).
Medina will make his fourth career start and his first against the Mariners. After losing his first two starts, he got a no-decision Wednesday against Arizona, allowing three runs on three hits over six innings of a 5-3 loss. The 24-year-old walked two and matched a career-high with six strikeouts
Gonzales is 10-4 with a 3.78 ERA in 19 career games against the A's, including 18 starts. He suffered his first loss of the season Wednesday at Boston, when he allowed eight runs in 1 2/3 innings. His ERA skyrocketed from 4.42 to 6.10.
--Field Level Media