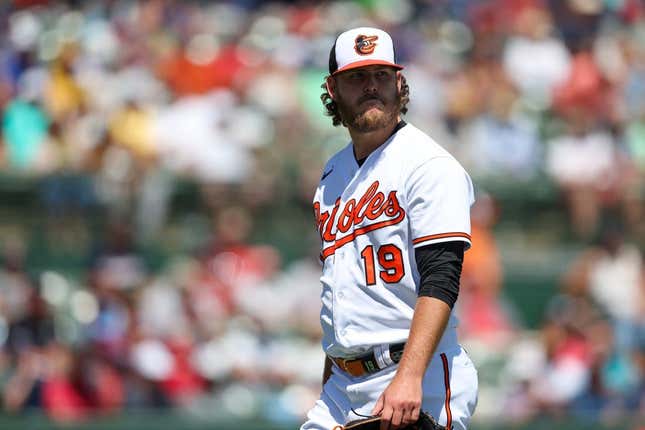 By authoring a 31-game improvement from 52 wins to 83 victories last season, the Baltimore Orioles earned a home opener with an electric crowd
Chris Paul should ride the bench next season | Keep it a Buck(et)
The Orioles did not disappoint in their 2023 home debut on Friday, and they will seek another win Saturday night when they again host the New York Yankees
A crowd of 45,017 -- the largest in a Baltimore home opener since 2018 -- watched the Orioles open the series with a 7-6 victory. Six Baltimore players drove in a run, including third baseman Ramon Urias, who hit a tiebreaking RBI double in the seventh and then started a crucial double play in the eighth
Urias also scored Baltimore's final run on a wild pitch. His clutch hit occurred after the Orioles built a 4-0 lead before falling behind 5-4
"It was a great win, especially being in front of that crowd and getting that big win is super special for us," Urias said. "I don't remember it being like that last year. There were a couple of games when there was big energy, but nothing like today."
Gunnar Henderson and Adley Rutschman were not around last year when Baltimore opened its home schedule with a 2-0 win over the Milwaukee Brewers. Both players made key contributions on Friday, with Henderson getting two of Baltimore's 10 hits and Rutschman reaching bases three times and also catching six pitchers, including Felix Bautista, who stranded Aaron Judge on third to end a thriller.
"The crowd the entire game, that was fun," Baltimore manager Brandon Hyde said. "People showed up. Really a great crowd, great energy in the ballpark. Players fed off it. You could definitely feel the excitement."
After winning four of six on their first homestand, the Yankees allowed seven-plus runs for the second time so far
New York's Franchy Cordero hit a three-run homer before being pinch-hit for by Isiah Kiner-Falefa, and Oswaldo Cabrera collected a career-high-tying three hits and three RBIs. Cabrera hit a two-run double that put New York up 5-4 in the sixth inning before Baltimore registered its second one-run win in the early going.
"As far as I'm concerned, they're a tough team to beat and they're contenders now," New York manager Aaron Boone said. "You know you've got to play well to beat them. They're a formidable opponent. We know that. We saw that building the last couple years but certainly last year, and now they're playing with a lot of confidence. They're a tough team to play against."
The Yankees played without Josh Donaldson, who is likely headed to the injured list after tweaking his right hamstring on Wednesday
New York will try to even the series on Saturday when it opposes Cole Irvin, who is hoping for a better outcome in his second start as an Oriole. Irvin (0-1, 13.50 ERA) was tagged for six runs on eight hits in four-plus innings during a 9-5 loss at Boston on Sunday.
Irvin will be facing the Yankees for the second time in his career. Last June 29 in New York, he took the loss for the Oakland A's when he allowed five runs on six hits -- including homers by Aaron Judge and Giancarlo Stanton -- in seven innings
Nestor Cortes was originally slated to start for the Yankees on Saturday, but he was pushed back and Jhony Brito will be added to the roster for his second start. Brito shined in his major league debut when he allowed two hits in five innings during a 6-0 win over the San Francisco Giants on Sunday
Brito impressed the Yankees by going 2-0 with a 2.08 ERA in four spring training appearances. He went a combined 11-4 with a 2.96 ERA in 26 outings (23 starts) in Double-A and Triple-A last season
--Field Level Media